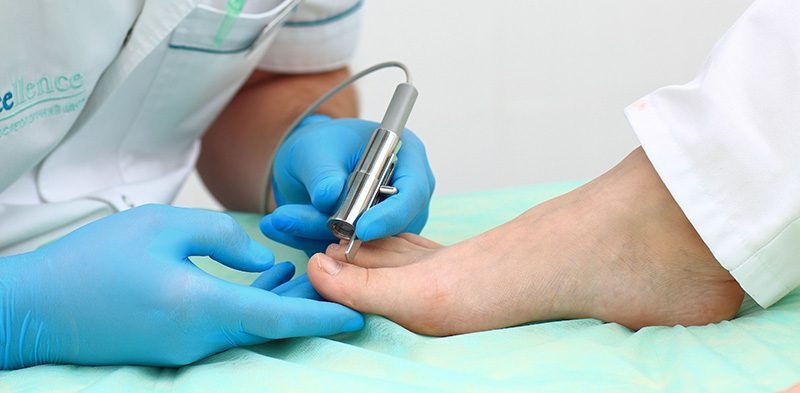 Onychomycosis is an unpleasant infection that changes the appearance and texture of the nail and is difficult to treat. The fungus can cause thickening of the nail, color changes, and an unpleasant odor. When infected, the pathogen destroys the nail bed, forming foci of localization under the nail plate. This makes it difficult to fight onychomycosis because direct access to the fungus is limited.
Until recently, treatment options for onychomycosis were limited to topical creams, special antifungal nail polishes and oral medications. But advances in medical technology are allowing new, effective therapies. MCC Excellence provides laser treatment of fungal nails Kiev (laser Leek Surgery). Treatment of fungus nails Kiev with a laser is a successfully proven method of combating onychomycosis.
Features of the treatment of toenail fungus by laser:
- Before starting treatment, it is recommended to take a fungus test to confirm the presence of infection and establish the type of pathogen.
- To ensure maximum penetration of laser energy, the nail plate is treated by a specialist podologist before the first onychomycosis laser treatment procedure.
- The laser beam penetrates through the nail to the nail bed where the fungus is present. Under the influence of high temperature, the infected tissue decomposes, destroying the fungus.
- The course of treatment is from 6 to 10 procedures, the number and frequency of which depends on the type of fungus, the area of infection and the general condition of the patient.
- In addition to laser therapy sessions, the dermatologist prescribes medication, depending on the type of fungus.
- In order to get the best results, dermatologists work in tandem with podiatrists. Once a month, the podologist treats the nail plate (scraping) for fungal infections.
- After a course of laser therapy, the patient must adhere to the dermatologist's recommendations to prevent the recurrence of fungus.
Advantages of using laser to treat nail fungus:
- It is indicated for all types of fungi.
- High effectiveness.
- No side effects.
- The duration of the session is about 30 minutes.
CLINIC ADVANTAGES

Medical license of the Ministry of Health of Ukraine

Experienced doctors and specialists

Certified products

Professional equipment
Fungus treatment in Excellence Clinics is provided by qualified, experienced dermatologists and podiatrists using modern equipment. We guarantee a high level of service, high quality diagnostics, high efficiency of procedures, individual approach to each patient and pleasant price.
Duration

Procedure

Cost

LASER TREATMENT

15 min.
Nail fungus treatment, 1 finger (hand or foot)
160 UAH.
15 min.
Toenail fungus treatment, 1 thumb (hand or foot)
220 UAH.
30 min.
Nail fungus treatment, 5 fingers area
580 UAH.

CONSULTATION

Dermatologist as part of the procedure
250 UAH.
Dermatologist/dermatologist 1st category
350-400 UAH
Control examination
200 UAH.
Dermatoscopy (examination + consultation)
550 UAH
Consultation trichologist
400 UAH
Trichoscopy + consultation
500 UAH
7 days
Histology examination
730 UAH.
1-3 days
Research on parasitic fungi
360 UAH
Sampling
60 UAH.
1-3 days
Demodex test
380-450 UAH.
Anesthesia
150 UAH.