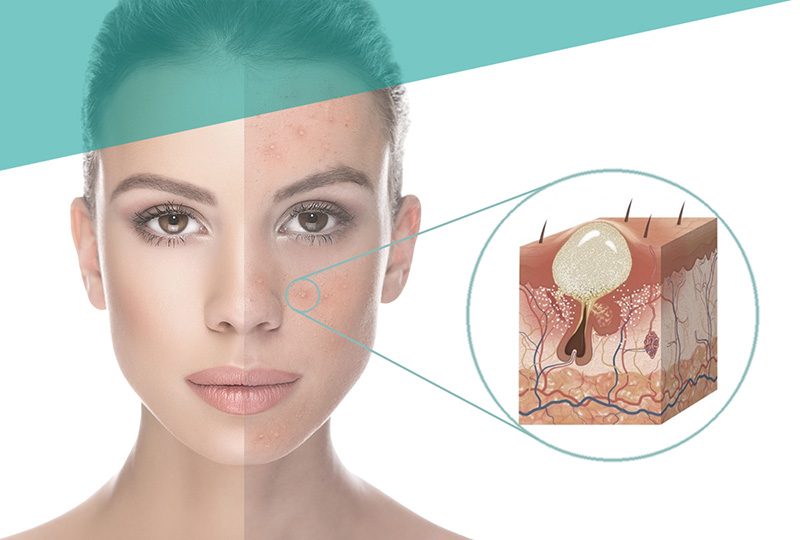 Acne is a common chronic skin disease that almost everyone is familiar with. Many people suffer from acne at certain times in their lives. Acne often develops in adolescents, but it can also appear in adulthood. Acne most often affects the face, neck, chest, back, and shoulders. The disease is caused by an increased production of sebum, which leads to clogged sebaceous glands and their inflammation. Excess sebum is an ideal breeding ground for bacteria that "live" in the sebaceous glands and normally do not manifest themselves in any way. The rapid growth of bacteria leads to the development of acne, which can appear on the skin in the form of open (black) and closed (white) comedones, inflammatory papules, pustules, nodules and cysts, which may lead to scarring and pigmented skin changes.
The risk factors for the development of acne include:
- Hormonal changes in the body (for example, during puberty or pregnancy);
- Taking certain medications;
- Improperly selected skin care products or cosmetics;
- Improper diet, unhealthy habits;
- Genetic predisposition.
There are a huge number of methods of dealing with acne, from cleansers and creams to spot cosmetic procedures, but not all of them are equally effective. There is no one-size-fits-all solution to acne, because every patient responds differently to treatments. Visiting a dermatologist is the only way to get a complete and accurate diagnosis and qualified treatment that will help to completely get rid of pimples and control their further appearance.
Acne treatment Kiev is performed in some stages:
1) Examination by a doctor, identifying the causes of the disease, analysis of the clinical picture, and determining the stage of the disease. In assessing the severity the dermatologist takes into account the distribution, type and number of acne, as well as the presence or absence of scars.
2) Selection of the most appropriate treatment regimen.
3) Taking a test to identify the bacteria that are the cause of the inflammatory process.
4) Medication therapy.
5) Conducting cosmetic and therapeutic procedures.
6) An important condition for effectiveness is the patient's compliance with the dermatologist's recommendations on skin care in the period between sessions and after treatment.
Excellence Medical and Cosmetological Centers apply different methods for treating acne: laser and medication treatment, care and treatment procedures, plasmolifting, and mesotherapy.
The medication treatment of acne (topical and oral) is aimed at achieving the following results:
- Reduction of sebaceous gland hyperactivity.
- Regulation of the keratinization process.
- Elimination of inflammatory processes.
- Combating the reproduction of bacteria.
Mesotherapy:
is a technique for treating many skin conditions including acne. The method is based on the injection of therapeutic cocktails into the upper and middle layers of the dermis. They contain the necessary active ingredients, minerals, vitamins, amino acids and other beneficial substances. Mesococktails with antibacterial and antioxidant effects help to eliminate acne and relieve inflammation.
Plasmolifting:
Is one of the most effective and efficient in treating acne. The introduction of human blood plasma enriched with platelets into problem areas stimulates tissue regeneration and metabolism, accelerates the production of collagen and elastin, promotes healing and regulates inflammatory processes.
Chemical peels:
Can be used as an independent method of acne treatment, as well as a treatment performed in conjunction with other therapeutic measures. Their main purpose is to remove the keratinized layer of the skin, lighten pigmented spots, cleanse the pores and narrow them. The type of peeling (superficial, median or deep), as well as its composition, are determined by the dermatologist during the examination and consultation.
Laser therapy is based on the specific effect of a laser beam on the skin problem areas, which leads to the death of pathogenic microorganisms, disinfection and cell activation. Laser therapy can be used as an independent method of getting rid of acne, but the best results can be achieved by using it in conjunction with other medical and cosmetic procedures. Laser resurfacing with Deka's Smart Xide dot CO2 machine can be recommended for quicker skin recovery after an inflammatory process is stopped.
As a result of laser therapy, it is possible to achieve the following results:
- Clearing and narrowing of pores.
- Removal of acne.
- Resorption of post-acne.
- Improvement of local skin immunity.
CLINIC ADVANTAGES

Medical license of the Ministry of Health of Ukraine

Experienced doctors and specialists

Certified products

Professional equipment
Acne is a curable disease. Qualified dermatology specialists of Excellence clinics will provide you with advice and develop an individual plan of cosmetic procedures and treatments to help you get rid of acne and remove spots and scars, including post-acne treatment.
Duration

Procedure

Cost

CONSULTATION
Dermatologist as part of the procedure
250 UAH.
Dermatologist/dermatologist 1st category
350-400 UAH
Control examination
200 UAH.
Dermatoscopy (examination + consultation)
550 UAH
Consultation trichologist
400 UAH
Trichoscopy + consultation
500 UAH
7 days
Histology examination
730 UAH.
1-3 days
Research on parasitic fungi
360 UAH
Sampling
60 UAH.
1-3 days
Demodex test
380-450 UAH.
Anesthesia
150 UAH.
Intramuscular/intravenous injection
90-130 UAH.
Info on swimming pool
200 UAH.