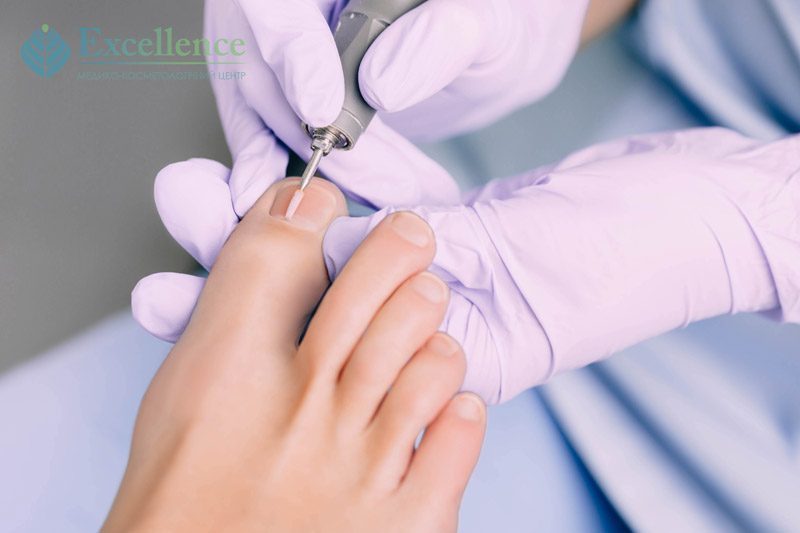 With fungal infections faced by many, but to treat it, especially if you miss the time, it is not easy. In addition, this disease is very contagious, so at the first signs of fungus it is important to immediately contact a podiatrist and start treatment to prevent the infection of other people.
Symptoms of mycosis:
- Changes in the color and structure of the nail plate.
- itching or burning.
- redness, peeling of the skin.
- rough, dry skin, the appearance of cracks.
- rashes.
- unpleasant odor.
Onycholysis is the detachment of the nail plate from the soft tissues of the finger. To choose a treatment tactic, the podiatrist first identifies the cause of the delamination (nail trauma, various infections, including fungus, allergies). Only after determining the cause, the specialist selects the most effective comprehensive treatment for each case.
CLINIC ADVANTAGES

Medical license of the Ministry of Health of Ukraine

Experienced doctors and specialists

Certified products

Professional equipment
If you need a professional, experienced, attentive podiatrist in Kiev, we invite you to our Excellence. We do not disguise, but solve any foot problems!
Смотрите также:
Duration

Procedure

Cost, UAH

PODOLOGY

15 min.
Treatment before wart removal
130
15 min.
Nail treatment
200
60 min.
Nail treatment one area (5 fingers)
600
15 min.
Inflammatory process treatment
210
40 min.
Removal of ingrown nail, difficulty 1-2
400-500
60 min.
Placement of the staple
1360
60 min.
Titanium suture placement
1360
60 min.
Nail plate replacement, partial
360
15 min.
Heel cracks, treatment, 1 pc.
150
60 min.
Heel cracks, treatment + cure, 1 pc.
460
15 min.
Calf corns, keratosis, treatment - 1 pc
180-260
15 min.
Root/core corns, as a part of treatment
160
30 min.
Root/core/subcutaneous corns, 1 pc.
280-360
30 min.
Wart treatment
300
15 min.
Tamponade/patch
120
15 min.
Tamponade NaGel
260
15 min.
Taping
160-290
15 min.
Prophylactic insoles
100
30 min.
Onychogryphosis (claw removal)
620
15 min.
Foot applicator (2 feet)
290
15 min.
Bandage
150

PEDICURE

45 min.
Pedicure medical hardware, partial
500
90 min.
Medical instrumented pedicure
630
120 min.
Medical instrumented pedicure, complex
690

CONSULTATION

15 min.
Podologist consultation as a part of the procedure
200
30 min.
Podologist consultation
300
5 min.
Supervision/correction
200
Anesthesia (Ultracaine, Artifrine, Lidocaine)
100