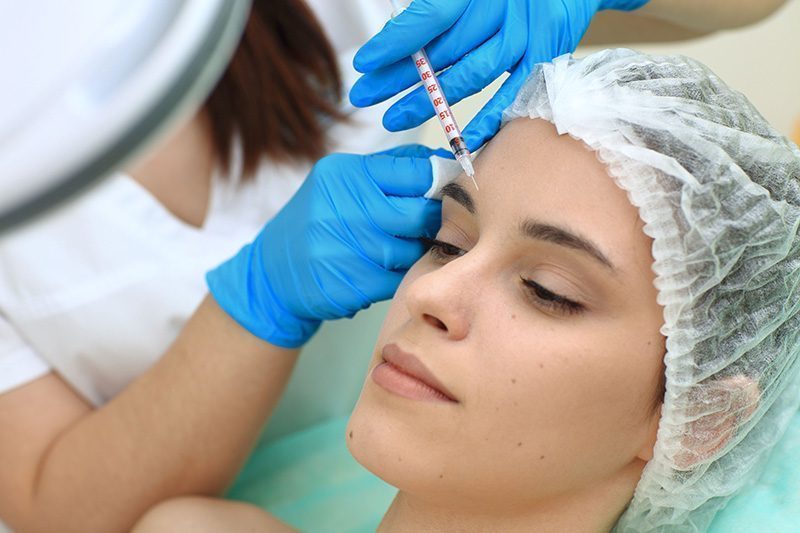 Our specialists work with botulinum toxins type A, which are manufactured by Allergan (USA) and Ipsen (France).
Botulinum Injections are a safe, simple and effective method of reducing medium to deep wrinkles, as well as preventing their appearance.
Anti-wrinkle injections are performed directly into the muscle. These medicines work by blocking nerve impulses in the muscle. This reduces the muscle activity that causes wrinkles.
The application areas include:
- Glabella (vertical creases between the eyebrows).
- Goosefoot (facial wrinkles around the eyes).
- Forehead (horizontal lines across the forehead).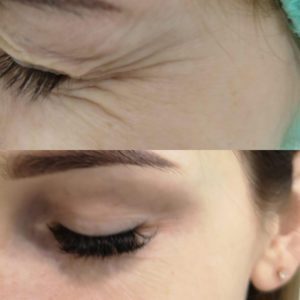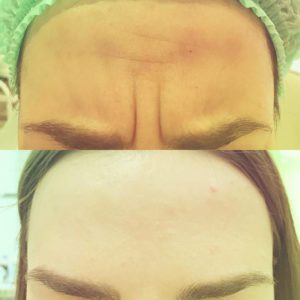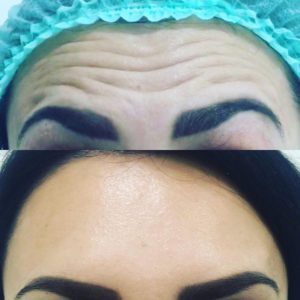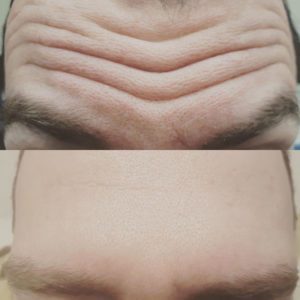 The results:
- Reduction of wrinkles on the forehead, near the nose, between the eyebrows.
- Smoothening of crow's feet around the eyes.
- Rejuvenation of the face and neck.
Maximal effect appears 14 days after the session and lasts up to 3-4 months. The duration of the result depends on the individual characteristics of the patient. Supportive injections can be done 3 times a year.
CLINIC ADVANTAGES

Medical license of the Ministry of Health of Ukraine

Experienced doctors and specialists

Certified products

Professional equipment
Correction of wrinkles (botulinum therapy)
The contraindications
— Pregnancy.
— Lactation.
— Oncological diseases.
— Blood diseases.
— Chronic diseases in the acute stage.
— Acute infectious diseases.
— Inflammatory processes on the skin at the intended injection site.
— Allergic reactions to any of the components of the drug.
Before the procedure, a specialist will consult you and determine whether the injection is suitable for you. Tell your doctor if you have had any botulinum toxin injections in the past four months, or if you are taking muscle relaxants, sleeping pills, or allergy medications. If you are taking blood thinners, you should stop taking them a few days before the injection to reduce the risk of bleeding or bruising. Throughout the rehabilitation period, be sure to follow the recommendations of the doctor who performed the procedure.
Beauty injections are safe and highly effective cosmetic treatments if performed by an experienced and qualified professional. The dermatology doctors at Excellence have extensive experience in performing injection procedures according to international medical protocols. We use only certified, high-quality products and sterile materials.
Duration

Procedure

Cost, UAH

MESOTHERAPY - FACE

30 min.
Filler Vit - OX/B/R (Italfarmacia, Italy)
1900
30 min.
Mesobotox face (Allergan, USA)
3500
30 min.
Mesobotox neck (Allergan, USA)
4500

MESOTHERAPY - EYES

30 min.
Eye area mesotherapy ECPR (Toskani, Spain)
1050
60 min.
TWAC eyes (Medhome, UK)
3100

LIPOLYTICS / ENZYMATIC LIPOSUCTION

45 min.
Chemical liposuction, second chin with DMAE (INNO Spain)
1000
45 min.
Chemical Liposuction, body (INNO, Spain)
2500
60 min.
Hyaluronidase / Collagenase (PB Serum, Spain) - 5 ml
1200
60 min.
Hyaluronidase + Collagenase (PB Serum, Spain) - 10 ml
1800
60 min.
Enzymatic lipolysis "TRIADA (PB Serum, Spain) - 15 ml
2800

STIMULATION OF HAIR GROWTH / TREATMENT OF HAIR LOSS

45 min.
Hair scalp mesotherapy Hair/Dermaheal (Spain/Korea)
1350
45 min.
DR.CYJ Hair Filler 1 ml
3200
45 min.
Hair Bio Activator Filler 1 ml
2200
60 min.
Scalp mesotherapy, 1 Plasmolifting™ tube
1700

BIOREVITALIZATION/BIO-REPARATION

60 min.
Plenhyage XL (Bioformula, Italy)
4900
60 min.
TWAC 2.0 (Medhome, UK)
4700
60 min.
TWAC 3.0 (Medhome, UK)
4800
60 min.
Juvederm Volite (Allergan, USA) - 1 ml.
6000

BOTULINUM THERAPY

Botox injections (Allergan, USA)

15 min.
Forehead
2000
15 min.
Interbrow
2000
15 min.
Eyes (crow's feet)
2000
15 min.
Rabbit wrinkles
from 1000
15 min.
Nose wings
from 1000
15 min.
Gingival smile
from 1000
15 min.
Kitic wrinkles
from 1000
15 min.
Corner of the mouth
from 1000
15 min.
Chin
from 1500
30 min.
Nefertiti elevator (neck)
from 5500
30 min.
Chewing mishna/bruxism elimination
from 4500
30 min.
Dysport injections (Ipsen, France), treatment of hyperhidrosis
7500

CONTOUR PLASTIC SURGERY

LIPS

60 min.
Juvederm 2 (Allergan, USA) - 0,55 ml
4000
60 min.
Juvederm Smile (Allergan, USA) - 0,55 ml
3700
60 min.
Juvederm 3 (Allergan, USA) - 1 ml
4900
60 min.
Juvederm Volift Retouch (Allergan, USA) - 0.55 ml
4000
60 min.
Juvederm Volift (Allergan, USA) - 1 ml
6700
60 min.
Juvederm Voluma (Allergan, USA) - 1 ml.
6700
60 min.
Restylane (Sweden) - 1 ml
7000

NASOLACRIMAL FURROW

60 min.
Juvederm Vollift (Allergan, USA) - 1 ml
6700
60 min.
Juvederm Volbella (Allergan, USA) - 1 ml.
6700
60 min.
Juvederm Volift Retouch (Allergan, USA) - 0.55 ml
4000

CHEEKBONES, CHIN, NOSE

60 min.
Juvederm Vollift (Allergan, USA) - 1 ml.
6700
60 min.
Juvederm Voluma (Allergan, USA) - 1 ml.
6700
60 min.
Juvederm Volux (Allergan, USA) - 1 ml
7000

BLANCHING

60 min.
Juvederm 2 (Allergan, USA) - 0,55 ml
4000

3D BIO-REINFORCEMENT (MEZONITE)

60 min.
Reversal liquid threads 1 ml
1800
60 min.
Reversal 4 ml.
5700
60 min.
Reversal liquid threads 9 ml
9000
60 min.
3D Lifting Mono 10 pcs.
3600
60 min.
3D Lifting Twin 10 pieces
5600
60 min.
3D Lifting with notches, 2 pieces.
3100

PLASMOLIFTING

60 min.
Any area, 1 tube Plasmolifting™
1700