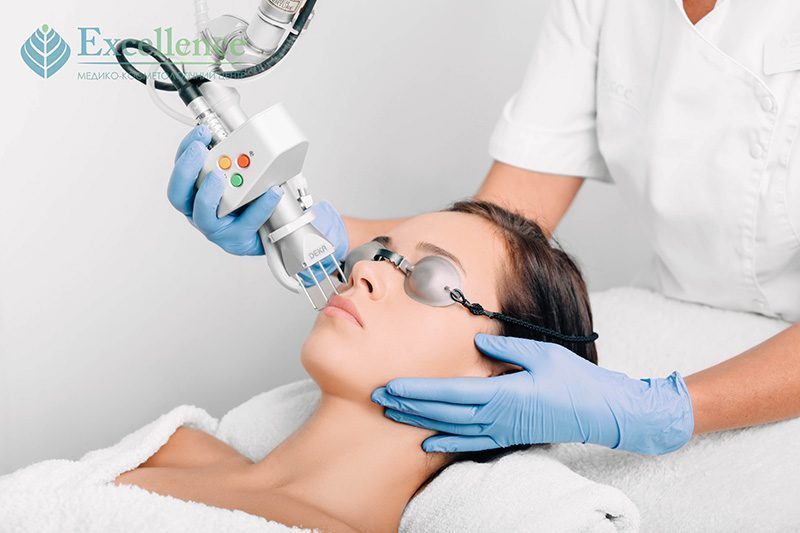 A scar (or scar) is a connective tissue formation that has appeared at the site of damage to the skin or mucous membranes due to injury or disease.
Features of Scar and Scar Removal by SmartXide DOT Laser
DOT procedure is a gentle effect on the epidermis, resulting in the formation of micro-thermal lesions in the surface layer of the skin. Laser mesh covers the whole area of the scar, triggering inherent in nature processes of self-regeneration of tissues. As a result, new, healthy cells take the place of the damaged and scarred tissue.
For the complete removal of scars and scars with SmartXide DOT laser requires 3 to 6 procedures. By the end of treatment, the scar is invisible, completely comparable in color and texture to healthy skin. After the procedure, there may be areas of redness, swelling, and small crusts, which disappear within a short time.
Indications:
- Scars and marks from chicken pox, stretch marks and acne;
- Scars after injuries;
- Scars after operations.
CLINIC ADVANTAGES

Medical license of the Ministry of Health of Ukraine

Experienced doctors and specialists

Certified products

Professional equipment
Throughout the recovery period, it is important to adhere precisely to the recommendations of the doctor who conducted the procedure.
Recommendations after fractional laser removal of scars and scars.
1. Do not sunbathe and protect the treated areas from direct sunlight for 2 weeks.
2. Wash with clean, chlorine-free water. 3.
3. No make-up should be used in the first few days.
4. It is desirable to take a complex of vitamin and mineral preparations. 5.
5. Do not use drugs that affect blood clotting. 6.
6. Do not use exfoliating agents.
7. Keep touching the treated areas of the face to a minimum.
8. Do not visit different types of baths and steam rooms for 2 weeks.
Duration

Procedure

Cost

INTIMATE AREA

60 min.
Laser fractional resurfacing of the perineum
2650 UAH
60 min.
Laser removal of postpartum scars
4200 UAH.
10 min.
Laser removal of neoplasms of the 1st category
650 UAH.
30 min.
Laser removal of neoplasms of the 2nd category.
1250 UAH.
30 min.
Laser removal of neoplasms of the 3rd category or more.
2100 UAH.

LASER RESECTION OF NEOPLASMS

20 min.
Fractional laser resection of a new lesion (3 - 5 mm)
650 UAH.
20 min.
Fractional laser resection of a new lesion (5 - 7 mm)
1050 UAH.
20 min.
Fractional laser resection of a new lesion (7-10 mm)
1,600 UAH.
40 min.
Fractional laser resection of a new lesion (3 - 5)
1,200 UAH
40 min.
Fractional laser resection of a neoplasm (5 - 10 units)
1,600 UAH.
60 min.
Fractional laser removal of a neoplasm (more than 10 pieces)
2100 UAH.
15 min.
Fractional laser removal of neoplasms on the eyelids
600 UAH.
30 min.
Fractional laser removal of a new lesion on the face
1,000 UAH.

LASER REMOVAL OF STRETCH MARKS, SCARS, SCARS, PIGMENTATION

20 min.
Fractional laser removal of striae (area up to 10 * 10 cm)
850 UAH.
30 min.
Fractional laser hair removal (up to 10 * 10 cm)
1400 UAH.
20 min.
Fractional laser correction of scars (one spot)
250 UAH.
20 min.
Fractional laser scar removal (up to 3 sq. cm)
550 UAH.
30 min.
Fractional laser scar removal (the area from 3 sq. cm. to 5 sq. cm)
850 UAH.
20 min.
Fractional laser scar removal (the area from 5 sq. cm. to 10 sq. cm)
1150 UAH.
30 min.
Fractional laser scar removal (the area over 10 sq. cm.)
1600 UAH.
30 min.
Fractional laser resection of the scar (the area of 10 * 10 sq. cm)
1900 UAH.
30 min.
Fractional laser removal of pigmentation area up to 3 sq. cm
700 UAH.
30 min.
Fractional laser pigmentation removal area from 3 sq. cm to 5 sq. cm.
900 UAH.
30 min.
Fractional laser removal pigmentation area of more than 5 sq. cm.
1600 UAH.

FRACTIONAL LASER REJUVENATION

60 min.
Fractional laser rejuvenation of upper or lower eyelids
1250 UAH.
60 min.
Fractional laser rejuvenation of the skin around the eyes
2100 UAH
60 min.
Fractional laser rejuvenation of the forehead.
1350 UAH
60 min.
Fractional laser rejuvenation of the paraoral area (around the lips)
1900 UAH.
60 min.
Fractional laser rejuvenation of cheek peeling
2300 UAH
60 min.
Fractional laser rejuvenation of the neck
2650 UAH
60 min.
Fractional laser rejuvenation of the face
3650 UAH
60 min.
Fractional laser rejuvenation of cleavage
3650 UAH
60 min.
Fractional laser rejuvenation of the face and neck / neck and cleavage
5250 UAH
60 min.
Fractional laser rejuvenation of three zones (face, neck, decollete)
6300 UAH
60 min.
Fractional laser rejuvenation of the hands
1900 UAH.
60 min.
Fractional laser peeling of the neck
1350 UAH.
60 min.
Fractional laser peeling of the face / décolleté
2650 UAH.
60 min.
Fractional laser peeling of the face and neck / neck and cleavage
4000 UAH
60 min.
Fractional laser peeling of three zones (face, neck, decollete)
5150 UAH