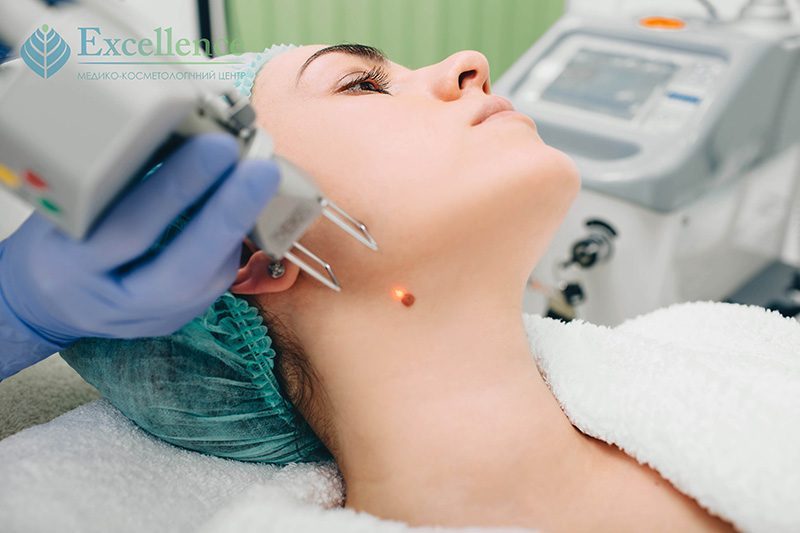 In addition to aesthetic discomfort, large moles, warts, nevi, keratomas, candilomas, papillomas and xanthelasms can cause a lot of trouble. That is why fighting them is not only a matter of beauty, but also of concern for your health. Dermatologists at Excellence Aesthetic Medicine Clinic use effective methods to fight these problems. This is achieved by progressive methods of laser dermatology.
Dermatologists at MCC Excellence use laser removal of such neoplasms today:
- Moles;
- Warts;
- Nevus;
- Papillomas;
- Xanthelasma;
- Candiloma;
- Keratomas and some others.
The latest technology and state-of-the-art equipment is used for this - the fractional DEKA Lazer.
DEKA SMART XIDE DOT CO2 laser acts only on pathological tissue, not affecting healthy skin.
Advantages of laser removal technology:
- Gentle impact on the tissue - only the pathological focus is removed;
- The procedure is virtually painless, and local or application anesthesia is used, if necessary;
- the operation is bloodless because the laser performs coagulation of vessels;
- The laser beam is sterile, so the risk of inflammation is minimized;
- The removal of tumors is carried out in one session.
CLINIC ADVANTAGES

Medical license of the Ministry of Health of Ukraine

Experienced doctors and specialists

Certified products

Professional equipment
In order to ensure that the recovery process takes place as quickly as possible and with minimal risk of damaging the surface, the doctors at Excellence Beauty Clinic give their patients several recommendations:
— Do not wipe with a towel, after washing, the place of the removed mole, wart or papilloma;
— After the procedure, during the first 3 days, treat the place of operation with wound-healing ointments, manganese solution;
— Do not touch, and do not tear, the crusts that have formed;
— Do not visit, within 2 weeks, baths, open reservoirs, solariums, avoid direct sunlight.
Accurate execution of these recommendations will reduce recovery time and prevent the formation of scars.
Contraindications
Laser removal of candida, xanthelasma, warts, papillomas and other neoplasms is not prescribed in the following cases:
— The presence of cancer;
— Size of warts, moles, papillomas exceed 3-4 cm (such neoplasms are removed surgically);
— If it is impossible to identify the underlying cause of neoplasms;
— Exacerbation of infectious and chronic diseases;
— Diseases of the nervous system;
— Pregnancy and breastfeeding;
— Diabetes mellitus;
— Circulatory disorders;
— Allergic reaction to certain pharmacological agents.
Duration

Procedure

Cost

INTIMATE AREA

60 min.
Laser fractional resurfacing of the perineum
2650 UAH
60 min.
Laser removal of postpartum scars
4200 UAH.
10 min.
Laser removal of neoplasms of the 1st category
650 UAH.
30 min.
Laser removal of neoplasms of the 2nd category.
1250 UAH.
30 min.
Laser removal of neoplasms of the 3rd category or more.
2100 UAH.

LASER RESECTION OF NEOPLASMS

20 min.
Fractional laser resection of a new lesion (3 - 5 mm)
650 UAH.
20 min.
Fractional laser resection of a new lesion (5 - 7 mm)
1050 UAH.
20 min.
Fractional laser resection of a new lesion (7-10 mm)
1,600 UAH.
40 min.
Fractional laser resection of a new lesion (3 - 5)
1,200 UAH
40 min.
Fractional laser resection of a neoplasm (5 - 10 units)
1,600 UAH.
60 min.
Fractional laser removal of a neoplasm (more than 10 pieces)
2100 UAH.
15 min.
Fractional laser removal of neoplasms on the eyelids
600 UAH.
30 min.
Fractional laser removal of a new lesion on the face
1,000 UAH.

LASER REMOVAL OF STRETCH MARKS, SCARS, SCARS, PIGMENTATION

20 min.
Fractional laser removal of striae (area up to 10 * 10 cm)
850 UAH.
30 min.
Fractional laser hair removal (up to 10 * 10 cm)
1400 UAH.
20 min.
Fractional laser correction of scars (one spot)
250 UAH.
20 min.
Fractional laser scar removal (up to 3 sq. cm)
550 UAH.
30 min.
Fractional laser scar removal (the area from 3 sq. cm. to 5 sq. cm)
850 UAH.
20 min.
Fractional laser scar removal (the area from 5 sq. cm. to 10 sq. cm)
1150 UAH.
30 min.
Fractional laser scar removal (the area over 10 sq. cm.)
1600 UAH.
30 min.
Fractional laser resection of the scar (the area of 10 * 10 sq. cm)
1900 UAH.
30 min.
Fractional laser removal of pigmentation area up to 3 sq. cm
700 UAH.
30 min.
Fractional laser pigmentation removal area from 3 sq. cm to 5 sq. cm.
900 UAH.
30 min.
Fractional laser removal pigmentation area of more than 5 sq. cm.
1600 UAH.

FRACTIONAL LASER REJUVENATION

60 min.
Fractional laser rejuvenation of upper or lower eyelids
1250 UAH.
60 min.
Fractional laser rejuvenation of the skin around the eyes
2100 UAH
60 min.
Fractional laser rejuvenation of the forehead.
1350 UAH
60 min.
Fractional laser rejuvenation of the paraoral area (around the lips)
1900 UAH.
60 min.
Fractional laser rejuvenation of cheek peeling
2300 UAH
60 min.
Fractional laser rejuvenation of the neck
2650 UAH
60 min.
Fractional laser rejuvenation of the face
3650 UAH
60 min.
Fractional laser rejuvenation of cleavage
3650 UAH
60 min.
Fractional laser rejuvenation of the face and neck / neck and cleavage
5250 UAH
60 min.
Fractional laser rejuvenation of three zones (face, neck, decollete)
6300 UAH
60 min.
Fractional laser rejuvenation of the hands
1900 UAH.
60 min.
Fractional laser peeling of the neck
1350 UAH.
60 min.
Fractional laser peeling of the face / décolleté
2650 UAH.
60 min.
Fractional laser peeling of the face and neck / neck and cleavage
4000 UAH
60 min.
Fractional laser peeling of three zones (face, neck, decollete)
5150 UAH