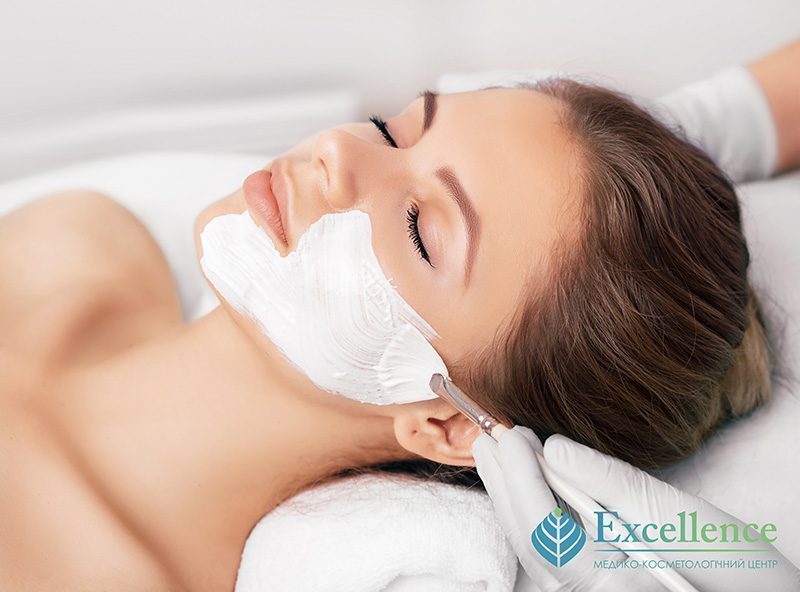 Beauty Rule Number One: Even the most beautiful makeup won't look perfect if your skin isn't healthy and well-groomed. Those who want to keep their skin youthful, naturally beautiful and healthy for a long time should understand that professional skin care procedures are indispensable. Professional facial care will not only provide a quick and lasting effect, but also prepare the skin for injections and hardware procedures. The Excellence Clinics provide a wide range of facial treatments by qualified beauticians.
The main indications for facial treatments are:
- Age changes, wrinkles, and loss of elasticity.
- Dry or oily skin.
- Enlarged pores.
- Rashes.
- Hyperpigmentation.
- Edema.
- Prevention of skin aging.
- Skin recovery after invasive procedures.
- Express preparation before important events.
The selection of care procedures and complex programs is performed by our qualified cosmetic dermatologists in Kiev individually for every patient considering many factors (the age of the patient, the skin type and condition, possible allergies to specific ingredients, desired results, etc).
The most popular cosmetic facial treatments at Excellence Clinics:
- Facial cleansing (mechanical, ultrasonic, combined, and atraumatic).
- Peelings (superficial, middle and deep). It provides a rapid improvement of the condition and appearance of the face skin, as well as its cleansing and moisturizing. The recommended frequency of the peeling is once every 1 - 2 weeks.
- Facial masks (collagen, alginate, etc). They have anti-inflammatory effects, normalize blood circulation, tighten pores, and lift the skin.
- Massages. A facial massage normalizes metabolic processes and improves blood circulation. The skin is smoothed, becomes elastic and supple, and acquires a healthy color. A facial massage helps to get rid of headaches, eliminate edema, and improve face contour.
- Complex programs. Depending on the patient's skin condition and the goals set, our Beauty Therapists at Excellence Clinics develop individual comprehensive programs for facial skin care. Our specialists use only certified, effective cosmetic products from leading world producers such as CASMARA (Spain), DANNE (USA), IMAGE (USA), TOTIS (Spain).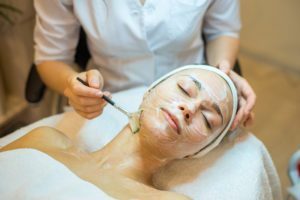 Skin care
- Procedures performed by using American cosmetics Danne (fermentotherapy, the procedure "Mother of the bride", or Triple mask by Danne). Danne is a line of cosmetic products based on plant extracts which do not contain fragrances or preservatives, which prevents allergic reactions. Danne cosmetics lines consist of cleansing, anti-inflammatory, toning, and matting components. DMK professional line is a program of treatment, restoration and care of the skin using enzymes, amino acids, and plant oils, which can affect the biochemical processes in the skin. After the sessions, the relief is provided and the color of the skin improves. The skin becomes smooth and soft.
The procedure called "Mother of the bride" is designed to achieve the maximum lifting effect during just one session! The main component of the procedure is Quick Peel, which contains lactic acid and cinnamon extract. The peeling regulates the pH of the skin. It smoothes wrinkles, improves microcirculation and the supply of tissues with nutrients, and removes the outer dead cells. After the peeling, the enzyme masks are applied. They provide a pronounced lifting effect, correct imperfections such as drooping upper eyelids and eyebrows, and also soften nasolabial folds and improve facial contour.
- Care procedures performed by using Spanish cosmetics Casmara (Ocean Miracle, Skin Sensations, Goji, Intensive Q10) are a complex of cleansing, regenerating and moisturizing procedures for all types and problems of facial skin. It consists of 6 phases and includes Casmara brand alginate mask. Casmara cosmetics is a professional line of cosmetics aimed at restoring functionality of deep layers of derma, getting rid of wrinkles and fighting with aesthetic skin imperfections.
The care program includes the following products:
- preparations for detoxification of the skin.
- ampoule concentrates containing hyaluronic acid, plant extracts and other biologically active components, which provide recovery, vitaminization and mineralization, anti-aging care.
- Casmara alginate mask with moisturizing and anti-inflammatory effect.
- Massage creams and serums.
The results after the professional facial skin care include:
- Healthy, well-groomed, smooth, and glowing skin.
- Acne control.
- Narrowing and purification of pores.
- Reduction of hyperpigmentation.
- Correction of wrinkles.
With skincare treatments and professional cosmetic products used by the dermatologist-cosmetologists of MCC Excellence, looking and feeling attractive is so easy! These procedures and products will also improve and prolong the results achieved through other cosmetic procedures.
CLINIC BENEFITS

Medical license of the Ministry of Health of Ukraine

Experienced doctors and specialists

Certified products

Professional equipment
Facial treatments in Excellence cosmetology clinics in Kiev are performed by the experienced beauty therapists using professional certified products and individually designed comprehensive programs for each patient. Let the care of your skin's beauty be entrusted to our qualified specialists!
Duration

Procedure

Cost, UAH

PROFESSIONAL CLEANSING

45 min.
Ultrasonic cleaning
520
60 min.
Ultrasonic cleaning back
570
60 min
Mechanical facial cleaning
570
60 min.
Mechanical men's face cleaning
640
90 min
Mechanical back cleanse
650
60 min.
Combined face cleansing
670
60 min.
Combined men's facial cleanse
740
90 min.
Combined Scrubbing Back Cleanse
770
90 min.
Combined face cleansing + decollete
770
60 min.
Cleanse + Peeling PRX-T33
2200
90 min.
Face cleansing Is clinical
1850

FACE MASSAGE

20 min.
Scalp/Facial cryomassage
360
30 min.
Back CryoMassage
430
20 min.
Gluteal cryomassage
360
45 min.
Lymphatic drainage and plastic massage, face
550
60 min.
Modelling chiromassage, face+decollete
660

УХОД ЗА КОЖЕЙ ЛИЦА И ЗОНЫ ДЕКОЛЬТЕ

60 min.
O2 LIFT Facial Care (Image, USA)
1490
60 min.
Facial Care Fire and Ice (IS CLINICAL,USA)
1520
60 min.
Facial Care POWER C (Skeyndor, Spain)
1520
60 min.
Facial Care POWER Hyaluronic (Skeyndor, Spain)
1520
60 min.
Facial Care AQUATHERM LINE, (Skeyndor, Spain)
1520
60 min.
Facial Care CORRECTIVE, (Skeyndor, Spain)
2000

CHEMICAL PEELING

30 min.
Azelaic peeling, (Simildiet, Spain)
800
30 min.
Azelaic peeling, (back) (Simildiet, Spain)
970
30 min.
Almond peeling, (Simildiet, Spain)
800
30 min.
Ferule peeling, face, (Simildiet, Spain)
800
30 min.
Salicylic almond peeling (face) (Simildiet, Spain)
800
30 min.
Salicylic almond peeling Sama (back) (Simildiet, Spain)
1010
30 min.
Chemical peeling as a part of the procedure - azelaic/almond/ferule
620
30 min.
SKIN RECOVERY peeling (INNO aestetic, Spain)
930
30 min.
T.C.Age Mg-35 peeling (INNOaestetic, Spain)
1600
35 min.
Peeling PRX-T33 (WiQo, Italy)
2000
35 min.
Peeling PRX - T33+ dermoscope (face)
2850
30 min.
BioRePeel peeling (CMed Aesthetics, Italy)
1900
45 min.
Bleaching peeling, (INNO/Simildiet, Spain)
1650
45 min.
VCARBON system carbon peeling (Promoitalia, Italy)
1500
45 min.
Intimate Peeling (Meline, Spain)
1200
60 min.
Signature peeling (Image, USA)
1400