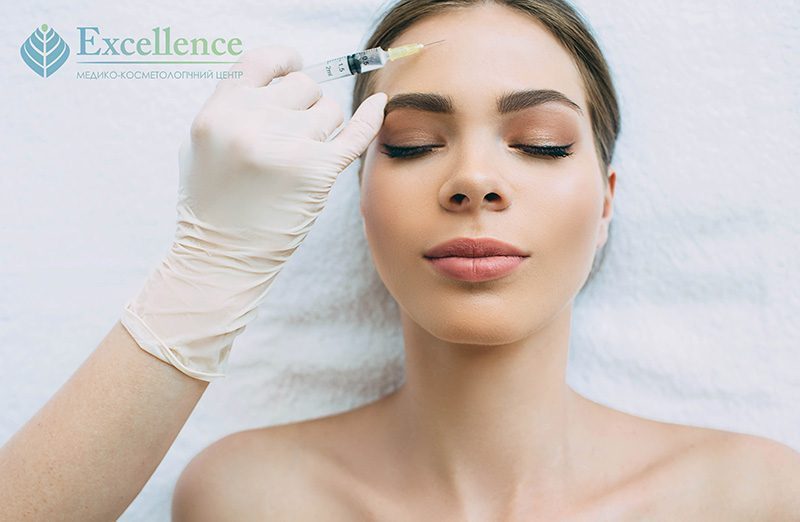 Biorevitalization and bioreparation are effective injectable cosmetology methods of skin rejuvenation and moisturizing, aimed at activation of natural regeneration mechanisms. They provide rapid cell regeneration, delay the appearance of signs of aging and solve other various skin problems.
Bioreparation and biorevitalization are types of mesotherapy. The difference between them is the components of the injectable preparations.
For biorevitalization, the preparations with pure hyaluronic acid are used. Hyaluronic acid restores the water balance of the skin, which is seriously impaired with age and leads to dryness, flabbiness and the loss of elasticity.
Bioreparation means the introduction of a preparation of hyaluronic acid, whose molecules are linked with vitamin C, trace elements and essential amino acids.
The indications include:
- Prevention of skin aging.
- Dry and dehydrated skin.
- Reduction of skin elasticity.
- Surface wrinkles and fine lines.
- Greyish, or tired skin
- Restoration of the skin after aggressive procedures or after prolonged active exposure to the sun.
- Before or in combination with other aesthetic treatments for the best results.
- Violation of the skin's relief integrity (post acne, stretch marks, scars and their prevention).
The preparations are used on any problem areas. It is most often used on the face, neck, décolleté zone, and hands. Since hyaluronic acid is recognized to be a safe product for injection, its use is widespread in cosmetology and popular among patients.
CLINIC ADVANTAGES

Medical license of the Ministry of Health of Ukraine

Experienced doctors and specialists

Certified products

Professional equipment
Excellence dermatologists do not prescribe the procedure in the following cases:
— Pregnancy.
— Lactation.
— Oncological diseases.
— New growths, any skin diseases or inflammatory processes in the areas of bioreparation/biorevitalization;
— Acute infectious diseases.
— Chronic diseases in acute stage.
— Blood clotting disorders.
— Allergy to the components of the preparations.

The most common results include:
— Deep moisturizing of the skin.
— Visible fast rejuvenation.
— Reduced expression of wrinkles.
— Elastic, radiant and soft skin.
— Lifting effect.
— Restoration of a smooth, healthy complexion.
— Biorevitalization / bioreparation in Excellence allows fast and effective treatment of several problems simultaneously. Firstly, these procedures are an excellent moisturizer for the skin, both in summer heat and in winter cold. Secondly, they help to restore skin structure and start regeneration processes.
Right after the first treatment you will notice that the condition of your skin has improved significantly. To achieve the best result, it is recommended to start with 3 treatments at intervals of 4 weeks. The skin remains moisturized, usually up to 3 months. Depending on the individual characteristics of the body, age and lifestyle, the effect can last longer or shorter (e.g., smoking and excessive exposure to UV light can shorten its duration). It is then recommended to repeat the procedure to achieve a permanent result.
Duration

Procedure

Cost, UAH

MESOTHERAPY - FACE

30 min.
Filler Vit - OX/B/R (Italfarmacia, Italy)
1900
30 min.
Mesobotox face (Allergan, USA)
3500
30 min.
Mesobotox neck (Allergan, USA)
4500

MESOTHERAPY - EYES

30 min.
Eye area mesotherapy ECPR (Toskani, Spain)
1050
60 min.
TWAC eyes (Medhome, UK)
3100

LIPOLYTICS / ENZYMATIC LIPOSUCTION

45 min.
Chemical liposuction, second chin with DMAE (INNO Spain)
1000
45 min.
Chemical Liposuction, body (INNO, Spain)
2500
60 min.
Hyaluronidase / Collagenase (PB Serum, Spain) - 5 ml
1200
60 min.
Hyaluronidase + Collagenase (PB Serum, Spain) - 10 ml
1800
60 min.
Enzymatic lipolysis "TRIADA (PB Serum, Spain) - 15 ml
2800

STIMULATION OF HAIR GROWTH / TREATMENT OF HAIR LOSS

45 min.
Hair scalp mesotherapy Hair/Dermaheal (Spain/Korea)
1350
45 min.
DR.CYJ Hair Filler 1 ml
3200
45 min.
Hair Bio Activator Filler 1 ml
2200
60 min.
Scalp mesotherapy, 1 Plasmolifting™ tube
1700

BIOREVITALIZATION/BIO-REPARATION

60 min.
Plenhyage XL (Bioformula, Italy)
4900
60 min.
TWAC 2.0 (Medhome, UK)
4700
60 min.
TWAC 3.0 (Medhome, UK)
4800
60 min.
Juvederm Volite (Allergan, USA) - 1 ml.
6000

BOTULINUM THERAPY

Botox injections (Allergan, USA)

15 min.
Forehead
2000
15 min.
Interbrow
2000
15 min.
Eyes (crow's feet)
2000
15 min.
Rabbit wrinkles
from 1000
15 min.
Nose wings
from 1000
15 min.
Gingival smile
from 1000
15 min.
Kitic wrinkles
from 1000
15 min.
Corner of the mouth
from 1000
15 min.
Chin
from 1500
30 min.
Nefertiti elevator (neck)
from 5500
30 min.
Chewing mishna/bruxism elimination
from 4500
30 min.
Dysport injections (Ipsen, France), treatment of hyperhidrosis
7500

CONTOUR PLASTIC SURGERY

LIPS

60 min.
Juvederm 2 (Allergan, USA) - 0,55 ml
4000
60 min.
Juvederm Smile (Allergan, USA) - 0,55 ml
3700
60 min.
Juvederm 3 (Allergan, USA) - 1 ml
4900
60 min.
Juvederm Volift Retouch (Allergan, USA) - 0.55 ml
4000
60 min.
Juvederm Volift (Allergan, USA) - 1 ml
6700
60 min.
Juvederm Voluma (Allergan, USA) - 1 ml.
6700
60 min.
Restylane (Sweden) - 1 ml
7000

NASOLACRIMAL FURROW

60 min.
Juvederm Vollift (Allergan, USA) - 1 ml
6700
60 min.
Juvederm Volbella (Allergan, USA) - 1 ml.
6700
60 min.
Juvederm Volift Retouch (Allergan, USA) - 0.55 ml
4000

CHEEKBONES, CHIN, NOSE

60 min.
Juvederm Vollift (Allergan, USA) - 1 ml.
6700
60 min.
Juvederm Voluma (Allergan, USA) - 1 ml.
6700
60 min.
Juvederm Volux (Allergan, USA) - 1 ml
7000

BLANCHING

60 min.
Juvederm 2 (Allergan, USA) - 0,55 ml
4000

3D BIO-REINFORCEMENT (MEZONITE)

60 min.
Reversal liquid threads 1 ml
1800
60 min.
Reversal 4 ml.
5700
60 min.
Reversal liquid threads 9 ml
9000
60 min.
3D Lifting Mono 10 pcs.
3600
60 min.
3D Lifting Twin 10 pieces
5600
60 min.
3D Lifting with notches, 2 pieces.
3100

PLASMOLIFTING

60 min.
Any area, 1 tube Plasmolifting™
1700