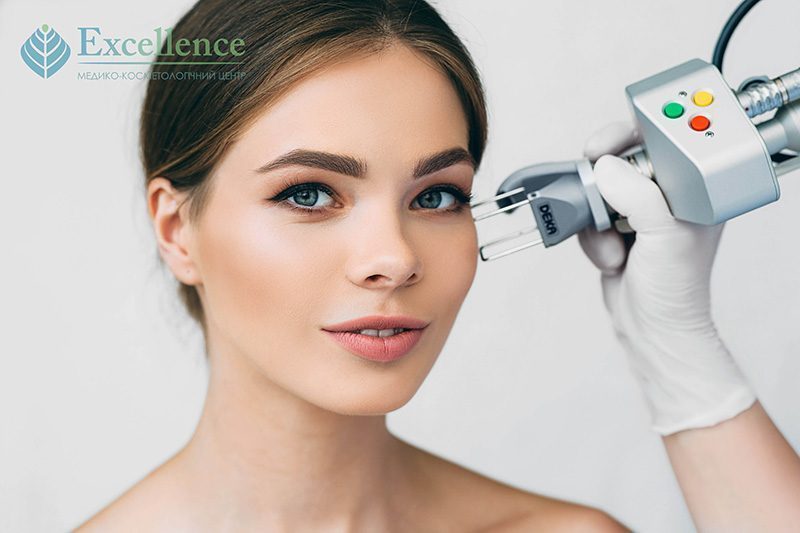 The specialists of the Excellence Medical and Beauty Clinic work only with proven and most effective methods for skin rejuvenation. One of them is dermal (DOT-therapy).
DOT-therapy is performed using a special SmartXide DOT device by DEKA (Italy). To date, this is a common European and international standard in the fight against aesthetic defects, which are mainly caused by aging skin.
Fractional skin rejuvenation is carried out on the following areas:
- Face (forehead, cheeks, eyes, area around the mouth);
- neck and décolleté area;
- Body (armpits, arms, abdomen, back, buttocks);
- Intimate rejuvenation of delicate areas.
Laser resurfacing is one of the modern methods of skin rejuvenation, as well as fighting scars and age spots.
How does it work?
A laser beam, thinner than a human hair, strikes thousands of micro zones in every centimeter of skin, heating and destroying old, damaged collagen and excess pigment.
At the same time, good new cells are activated and begin to heal the damage.
A new layer of young skin is formed in place of the exposure, without defects - wrinkles, fine scars and pigmentation.
Indications:
- Excessive pigmentation;
- Various kinds of wrinkles, including deep wrinkles;
- Scars and marks from chicken pox, stretch marks and acne;
- Enlarged pores;
- Dull and unhealthy complexion;
- Loss of natural skin elasticity and firmness;
- Excessive and sagging skin in the eyelid area and some others.
The entire laser rejuvenation procedure takes place without a single surgical incision.
DOT therapy results in wrinkles being smoothed, skin tightening and softening.
The procedure takes only a few minutes, is safe, fast and with minimal recovery time.
Results are visible immediately after the first treatment, for a more pronounced effect the full course of procedures is 3 - 5.
CLINIC ADVANTAGES

Medical license of the Ministry of Health of Ukraine

Experienced doctors and specialists

Certified products

Professional equipment
Throughout the recovery period is important to adhere exactly to the recommendations of the doctor who conducted the procedure.
Recommendations after the fractional laser rejuvenation procedure.
1. Do not sunbathe and protect the treated areas from direct sunlight for 2 weeks.
2. Wash your face with clean, chlorine-free water.
3. Do not wear makeup in the first few days.
4. It is desirable to take a complex of vitamin and mineral preparations. 5.
5. Do not use drugs that affect blood clotting. 6.
6. Do not use exfoliating agents.
7. Keep touching the treated areas of the face to a minimum.
8. Do not visit different types of baths and steam rooms for 2 weeks.
Duration

Procedure

Cost

INTIMATE AREA

60 min.
Laser fractional resurfacing of the perineum
2650 UAH
60 min.
Laser removal of postpartum scars
4200 UAH.
10 min.
Laser removal of neoplasms of the 1st category
650 UAH.
30 min.
Laser removal of neoplasms of the 2nd category.
1250 UAH.
30 min.
Laser removal of neoplasms of the 3rd category or more.
2100 UAH.

LASER RESECTION OF NEOPLASMS

20 min.
Fractional laser resection of a new lesion (3 - 5 mm)
650 UAH.
20 min.
Fractional laser resection of a new lesion (5 - 7 mm)
1050 UAH.
20 min.
Fractional laser resection of a new lesion (7-10 mm)
1,600 UAH.
40 min.
Fractional laser resection of a new lesion (3 - 5)
1,200 UAH
40 min.
Fractional laser resection of a neoplasm (5 - 10 units)
1,600 UAH.
60 min.
Fractional laser removal of a neoplasm (more than 10 pieces)
2100 UAH.
15 min.
Fractional laser removal of neoplasms on the eyelids
600 UAH.
30 min.
Fractional laser removal of a new lesion on the face
1,000 UAH.

LASER REMOVAL OF STRETCH MARKS, SCARS, SCARS, PIGMENTATION

20 min.
Fractional laser removal of striae (area up to 10 * 10 cm)
850 UAH.
30 min.
Fractional laser hair removal (up to 10 * 10 cm)
1400 UAH.
20 min.
Fractional laser correction of scars (one spot)
250 UAH.
20 min.
Fractional laser scar removal (up to 3 sq. cm)
550 UAH.
30 min.
Fractional laser scar removal (the area from 3 sq. cm. to 5 sq. cm)
850 UAH.
20 min.
Fractional laser scar removal (the area from 5 sq. cm. to 10 sq. cm)
1150 UAH.
30 min.
Fractional laser scar removal (the area over 10 sq. cm.)
1600 UAH.
30 min.
Fractional laser resection of the scar (the area of 10 * 10 sq. cm)
1900 UAH.
30 min.
Fractional laser removal of pigmentation area up to 3 sq. cm
700 UAH.
30 min.
Fractional laser pigmentation removal area from 3 sq. cm to 5 sq. cm.
900 UAH.
30 min.
Fractional laser removal pigmentation area of more than 5 sq. cm.
1600 UAH.

FRACTIONAL LASER REJUVENATION

60 min.
Fractional laser rejuvenation of upper or lower eyelids
1250 UAH.
60 min.
Fractional laser rejuvenation of the skin around the eyes
2100 UAH
60 min.
Fractional laser rejuvenation of the forehead.
1350 UAH
60 min.
Fractional laser rejuvenation of the paraoral area (around the lips)
1900 UAH.
60 min.
Fractional laser rejuvenation of cheek peeling
2300 UAH
60 min.
Fractional laser rejuvenation of the neck
2650 UAH
60 min.
Fractional laser rejuvenation of the face
3650 UAH
60 min.
Fractional laser rejuvenation of cleavage
3650 UAH
60 min.
Fractional laser rejuvenation of the face and neck / neck and cleavage
5250 UAH
60 min.
Fractional laser rejuvenation of three zones (face, neck, decollete)
6300 UAH
60 min.
Fractional laser rejuvenation of the hands
1900 UAH.
60 min.
Fractional laser peeling of the neck
1350 UAH.
60 min.
Fractional laser peeling of the face / décolleté
2650 UAH.
60 min.
Fractional laser peeling of the face and neck / neck and cleavage
4000 UAH
60 min.
Fractional laser peeling of three zones (face, neck, decollete)
5150 UAH