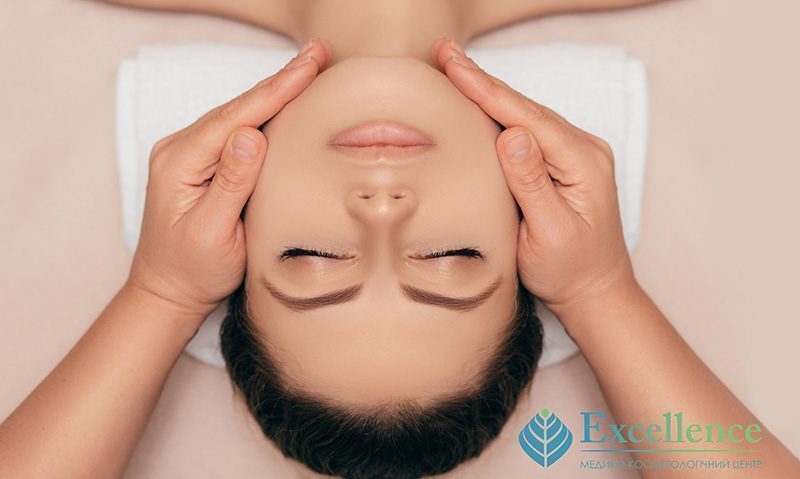 Massage - an ancient technique that has found application in modern cosmetology, and it has many fans. Skin care experts say facial massage will benefit you in the long term.
Facial massage in clinics "Excellence" in Kiev improves blood circulation and lymph flow, normalizes metabolic processes, stimulates the removal of toxins and metabolic products from the skin. The skin is smoothed, becomes firm and elastic, gains a healthy color, improves facial contour, puffiness and dark circles under the eyes disappear. The procedure is especially relevant for those who are contraindicated to plastic surgery and injection methods.
Benefits of facial massage:
- Improves blood circulation.
- Stimulates the production of collagen.
- Reduces stress, improves health.
- Draws out toxins.
- Fights the signs of aging.
- Cleanses pores and promotes better penetration of skin care products.
- Helps to get rid of stagnant fluid, which causes swelling of the face.
MCC Excellence specialists perform these types of massage for the face:
- Classic facial massage. This is the most common method used by beauticians around the world. Classical facial massage is aimed at keeping the skin toned, reducing puffiness and correction of wrinkles. It promotes collagen production and relaxes the muscles.
- Lymphatic drainage and plastic facial massage. Lymph is a fluid that removes toxins and metabolic products. It consists of water, proteins and salts. You can improve the lymph flow with a massage. Plastic massage triggers important processes in the skin, provides an increase in tone and strengthens facial muscles. Lymphatic drainage contributes to the disappearance of puffiness, with the active removal of toxic substances from the cells of the subcutaneous layer. It is an excellent method if you want to rejuvenate your skin by deep cleansing.
- Spanish chiromassage Kiev is a unique procedure. It effectively restores elasticity of tissues and muscles. During the massage you alternate more than one hundred receptions. Spanish chiromassage allows you to completely relax, it is painless and deep.
- Modelling facial massage is a deep muscle workout, which removes hypertonicity, restores skin elasticity, smoothest wrinkles and folds and saturates tissues with oxygen.
Certain techniques or a combination of techniques are individually selected for each patient depending on the condition of the skin and aesthetic problems to be solved.
During the procedure we use only certified effective cosmetic products from leading world manufacturers: Skeyndor (Spain), Сasmara (Spain).
How does facial massage procedure take place?
- cleansing of the skin of the face;
- toning;
- performing massage;
- The procedure is completed with cream, you can also use an alginate mask.
Results of the facial massage:
- facial skin tone is increased and the balance of skin moisture is ensured;
- Improves the appearance of the skin;
- facial contours retain their youthfulness for longer.
- facial wrinkles are smoothed out;
- puffiness and dark circles under the eyes are eliminated;
- Relaxes tense facial muscles;
- improves blood circulation and lymphatic circulation;
- toxins, impurities and dead skin cells are removed.
How often should a facial massage be performed?
For a good result, a professional facial massage should be performed 1-2 times a week. The recommended course of massage is 7-10 sessions. If necessary, it is possible to repeat the course in 1-2 months.
Contraindications:
- Cancer.
- Acute inflammatory processes on the face.
- Infectious diseases, fever.
- Diseases of the circulatory or lymphatic system.
- Dermatoses (skin diseases).
- Herpes or acne in the acute stage.
- Skin integrity disorders (wounds, abrasions).
- Recent injecting procedures or surgery in the face and neck area.
CLINIC ADVANTAGES

Medical license of the Ministry of Health of Ukraine

Experienced doctors and specialists

Certified products

Professional equipment
Facial massage in Kiev in cosmetology clinics «Excellence» is designed to rejuvenate and regenerate the skin, reducing the severity of wrinkles, shaping facial contours, removing toxins, as well as improving blood circulation and lymph flow.
Professional massage for the face should be performed only by a qualified specialist. Experienced beauticians MCC Excellence perform an accurate
diagnosis of the skin, check for contraindications and select individually for each patient the most effective methods of action and cosmetic means. We guarantee that the procedures will be most effective, comfortable and painless.
Duration

Procedure

Cost

PROFESSIONAL CLEANSING

45 min.
Ultrasonic cleaning
500 UAH
60 min.
Ultrasonic cleaning back
550 UAH
60 min
Mechanical facial cleaning
550 UAH
60 min.
Mechanical men's face cleaning
620 UAH
90 min
Mechanical back cleanse
630 UAH
60 min.
Combined face cleansing
650 UAH
60 min.
Combined men's facial cleanse
720 UAH
90 min.
Combined Scrubbing Back Cleanse
750 UAH
90 min.
Combined face cleansing + decollete
750 UAH
60 min.
Combined Face Cleanse according to DANNE
1250 UAH
90 min.
Combined deep cleansing according to DANNE
1370 UAH
60 min.
Cleanse + Peeling PRX-T33
2150 UAH

FACE MASSAGE

20 min.
Scalp/Facial cryomassage
350 UAH
30 min.
Back CryoMassage
420 UAH
20 min.
Gluteal cryomassage
350 UAH
45 min.
Lymphatic drainage and plastic massage, face
530 UAH
60 min.
Modelling chiromassage, face+decollete
550 UAH

FACIAL AND DECOLLETE SKIN CARE

60 min.
Facial monodies care for skin type, (Camara, Spain)
1470 UAH
60 min.
Fermentotherapy with # 1 face mask, (DANNE, USA)
1050 UAH
60 min.
Fermentotherapy with mask No.1 and No.2 face, (DANNE, USA)
1260 UAH
60 min.
Fermentotherapy with # 1 and #2 mask face and decollete, (DANNE, USA)
2000 UAH
60 min.
Care "Mother of the bride" with Quick Peel and mask # 1, face (DANNE, USA)
1150 UAH
60 min.
Triple face mask (DANNE, USA)
1420 UAH
60 min.
O2 LIFT Facial Care (Image, USA)
1470 UAH

CHEMICAL PEELING

30 min.
Azelaic peeling, (Simildiet, Spain)
750 UAH
30 min.
Almond peeling, (Simildiet, Spain)
690 UAH
30 min.
Milk peeling 40% (TOSKANI, Spain)
690 UAH
30 min.
Ferule peeling, face, (Simildiet, Spain)
690 UAH
30 min.
Salicylic almond peeling (face) (Simildiet, Spain)
750 UAH
30 min.
Salicylic almond peeling Sama (back) (Simildiet, Spain)
950 UAH
30 min.
SKIN RECOVERY peeling (INNO aestetic, Spain)
900 UAH
30 min.
QUIK PEEL peeling (DANNE, USA)
690 UAH
30 min.
TCA peel Security peel (TOSKANI, Spain)
1600 UAH
30 min.
TCA peel Security peel - SPIN
1900 UAH
30 min.
T.C.Age Mg-35 peeling (INNOaestetic, Spain)
1600 UAH
35 min.
Peeling PRX-T33 (WiQo, Italy)
1900 UAH
35 min.
Peeling PRX - T33+ dermoscope (face)
2700 UAH
30 min.
BioRePeel peeling (CMed Aesthetics, Italy)
1700 UAH
45 min.
Bleaching peeling, (INNO/Simildiet, Spain)
1600 UAH
45 min.
VCARBON system carbon peeling (Promoitalia, Italy)
1470 UAH
45 min.
Intimate Peeling (Meline, Spain)
1200 UAH
60 min.
Signature peeling (Image, USA)
1370 UAH