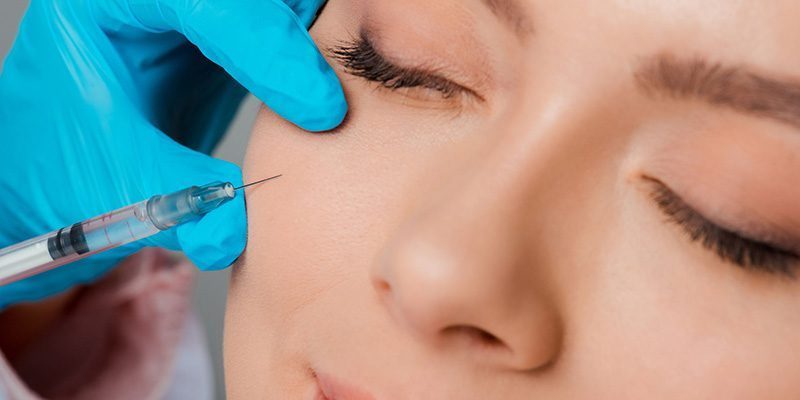 The skin around the eyes is characterized by several anatomical features, which cause the first signs of aging to appear mostly in the periorbital area. The ageing process may be accelerated by chronic lack of sleep, stress, unhealthy habits and excessive exposure to UV light around the eyes.
As we age, skin elasticity tends to decrease, gravitational ptosis develops, wrinkles appear, dark circles, puffiness under the eyes, and nasolacrimal furrows appear. They appear as shallow folds which begin in the inner corner of the eye and end near the zygomatic arch. These furrows give the face a tired, aged, and unhealthy appearance. Unfortunately, creams and serums for the eye area, especially those that are designed to eliminate dark circles and bags under the eyes, are often useless. But there is an effective method for combating signs of aging in the periorbital area! The method of correction of the nasolacrimal furrow with fillers is one of the most effective non-surgical methods to combat aging of the zone around the eyes.
Correction of nasolacrimal furrows is an injection-based cosmetic technique involving subcutaneous injection of products based on hyaluronic acid to rejuvenate the skin. Under the skin, a gel-like preparation containing hyaluronic acid is evenly distributed in the free space.
As a result, the skin is intensively moisturized and regains its lost elasticity.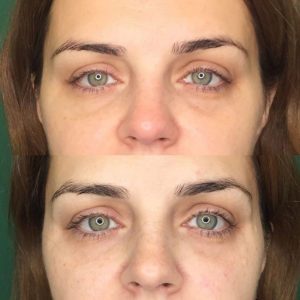 The indications:
- Puffiness and dark circles under the eyes.
- Nasolacrimal furrows and bags under the eyes.
- Expression lines.
- Reduced elasticity, sagging of the skin.
The results are the following:
- Rejuvenation of the skin of the periorbital area.
- Smoothing of expression lines.
- Reduction of puffiness, dark circles and bags under the eyes.
- The skin becomes soft, radiant and moisturized.
The positive effect is noticeable almost immediately after the introduction of the filler. The maximum result of this cosmetic procedure is usually within 2 weeks and lasts for 6-12 months. Throughout the recovery period, it is imperative to adhere to all recommendations of the doctor who performed the procedure.
Contraindications:
Excellence Clinic dermatologists do not prescribe the procedure in the following cases:
- Pregnancy.
- Lactation.
- Cancer.
- Acute infectious diseases.
- Chronic diseases in the acute stage.
- Inflammatory processes in the area of the supposed injection.
- Allergies to components of preparations.
CLINIC ADVANTAGES

Medical license of the Ministry of Health of Ukraine

Experienced doctors and specialists

Certified products

Professional equipment
Periorbital rejuvenation and nasolacrimal fissure correction in Excellence Clinics is an innovative, effective and safe method of fighting the first signs of aging. Our specialists have extensive experience in performing injectable cosmetic procedures in compliance with all medical protocols, and our patients are always happy with the results!
Duration

Procedure

Cost, UAH

MESOTHERAPY - FACE

30 min.
Filler Vit - OX/B/R (Italfarmacia, Italy)
1900
30 min.
Mesobotox face (Allergan, USA)
3500
30 min.
Mesobotox neck (Allergan, USA)
4500

MESOTHERAPY - EYES

30 min.
Eye area mesotherapy ECPR (Toskani, Spain)
1050
60 min.
TWAC eyes (Medhome, UK)
3100

LIPOLYTICS / ENZYMATIC LIPOSUCTION

45 min.
Chemical liposuction, second chin with DMAE (INNO Spain)
1000
45 min.
Chemical Liposuction, body (INNO, Spain)
2500
60 min.
Hyaluronidase / Collagenase (PB Serum, Spain) - 5 ml
1200
60 min.
Hyaluronidase + Collagenase (PB Serum, Spain) - 10 ml
1800
60 min.
Enzymatic lipolysis "TRIADA (PB Serum, Spain) - 15 ml
2800

STIMULATION OF HAIR GROWTH / TREATMENT OF HAIR LOSS

45 min.
Hair scalp mesotherapy Hair/Dermaheal (Spain/Korea)
1350
45 min.
DR.CYJ Hair Filler 1 ml
3200
45 min.
Hair Bio Activator Filler 1 ml
2200
60 min.
Scalp mesotherapy, 1 Plasmolifting™ tube
1700

BIOREVITALIZATION/BIO-REPARATION

60 min.
Plenhyage XL (Bioformula, Italy)
4900
60 min.
TWAC 2.0 (Medhome, UK)
4700
60 min.
TWAC 3.0 (Medhome, UK)
4800
60 min.
Juvederm Volite (Allergan, USA) - 1 ml.
6000

BOTULINUM THERAPY

Botox injections (Allergan, USA)

15 min.
Forehead
2000
15 min.
Interbrow
2000
15 min.
Eyes (crow's feet)
2000
15 min.
Rabbit wrinkles
from 1000
15 min.
Nose wings
from 1000
15 min.
Gingival smile
from 1000
15 min.
Kitic wrinkles
from 1000
15 min.
Corner of the mouth
from 1000
15 min.
Chin
from 1500
30 min.
Nefertiti elevator (neck)
from 5500
30 min.
Chewing mishna/bruxism elimination
from 4500
30 min.
Dysport injections (Ipsen, France), treatment of hyperhidrosis
7500

CONTOUR PLASTIC SURGERY

LIPS

60 min.
Juvederm 2 (Allergan, USA) - 0,55 ml
4000
60 min.
Juvederm Smile (Allergan, USA) - 0,55 ml
3700
60 min.
Juvederm 3 (Allergan, USA) - 1 ml
4900
60 min.
Juvederm Volift Retouch (Allergan, USA) - 0.55 ml
4000
60 min.
Juvederm Volift (Allergan, USA) - 1 ml
6700
60 min.
Juvederm Voluma (Allergan, USA) - 1 ml.
6700
60 min.
Restylane (Sweden) - 1 ml
7000

NASOLACRIMAL FURROW

60 min.
Juvederm Vollift (Allergan, USA) - 1 ml
6700
60 min.
Juvederm Volbella (Allergan, USA) - 1 ml.
6700
60 min.
Juvederm Volift Retouch (Allergan, USA) - 0.55 ml
4000

CHEEKBONES, CHIN, NOSE

60 min.
Juvederm Vollift (Allergan, USA) - 1 ml.
6700
60 min.
Juvederm Voluma (Allergan, USA) - 1 ml.
6700
60 min.
Juvederm Volux (Allergan, USA) - 1 ml
7000

BLANCHING

60 min.
Juvederm 2 (Allergan, USA) - 0,55 ml
4000

3D BIO-REINFORCEMENT (MEZONITE)

60 min.
Reversal liquid threads 1 ml
1800
60 min.
Reversal 4 ml.
5700
60 min.
Reversal liquid threads 9 ml
9000
60 min.
3D Lifting Mono 10 pcs.
3600
60 min.
3D Lifting Twin 10 pieces
5600
60 min.
3D Lifting with notches, 2 pieces.
3100

PLASMOLIFTING

60 min.
Any area, 1 tube Plasmolifting™
1700