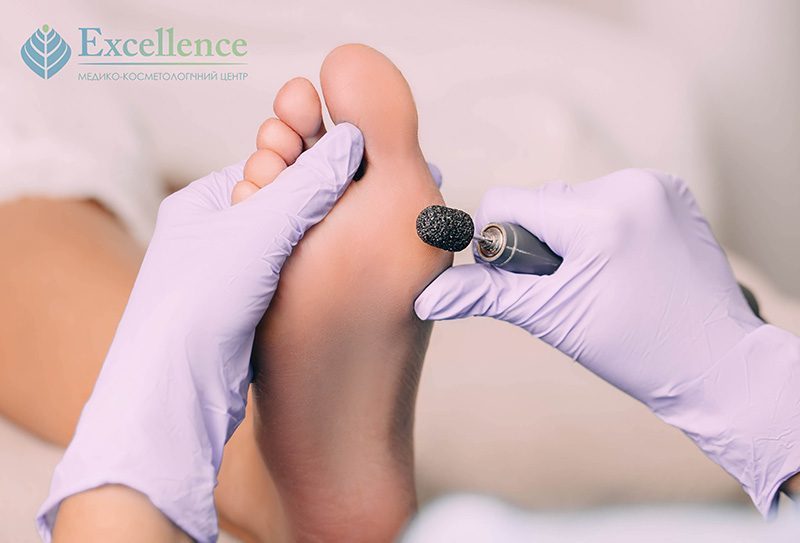 A traditional cosmetic pedicure can give your feet a nice, well-groomed look. But it solves only aesthetic problems, not medical ones.
A hygienic pedicure can only mask defects for a while, but not eliminate their causes.
Medical hardware pedicure is a therapeutic procedure aimed at prevention and elimination of various problems of nails and feet. This pedicure is performed using a special apparatus with many nozzles to treat the nails, nail rolls and feet.
Medical pedicure Kiev clinics Excellence provides medical pedicure by qualified podiatrists in compliance with all sanitary and hygienic norms. During the procedure, only disposable heads with varying degrees of abrasiveness are used, as well as medicines and care products recommended for each particular problem.
CLINIC ADVANTAGES

Medical license of the Ministry of Health of Ukraine

Experienced doctors and specialists

Certified products

Professional equipment
If you need a professional, experienced, attentive podiatrist in Kiev, we invite you to our Excellence. We don't disguise, but solve any foot problems!
Duration

Procedure

Cost, UAH

PODOLOGY

15 min.
Treatment before wart removal
130
15 min.
Nail treatment
200
60 min.
Nail treatment one area (5 fingers)
600
15 min.
Inflammatory process treatment
210
40 min.
Removal of ingrown nail, difficulty 1-2
400-500
60 min.
Placement of the staple
1360
60 min.
Titanium suture placement
1360
60 min.
Nail plate replacement, partial
360
15 min.
Heel cracks, treatment, 1 pc.
150
60 min.
Heel cracks, treatment + cure, 1 pc.
460
15 min.
Calf corns, keratosis, treatment - 1 pc
180-260
15 min.
Root/core corns, as a part of treatment
160
30 min.
Root/core/subcutaneous corns, 1 pc.
280-360
30 min.
Wart treatment
300
15 min.
Tamponade/patch
120
15 min.
Tamponade NaGel
260
15 min.
Taping
160-290
15 min.
Prophylactic insoles
100
30 min.
Onychogryphosis (claw removal)
620
15 min.
Foot applicator (2 feet)
290
15 min.
Bandage
150

PEDICURE

45 min.
Pedicure medical hardware, partial
500
90 min.
Medical instrumented pedicure
630
120 min.
Medical instrumented pedicure, complex
690

CONSULTATION

15 min.
Podologist consultation as a part of the procedure
200
30 min.
Podologist consultation
300
5 min.
Supervision/correction
200
Anesthesia (Ultracaine, Artifrine, Lidocaine)
100