In all Excellence Centers, beauty injections are actively used to effectively eliminate flaws in the face, neck, and décolleté areas. In addition, subcutaneous injections are used to treat the buttocks, arms, legs, and intimate areas. Such procedures allow to give clear contours and tighten the skin in problem areas without surgical intervention. This is because after the injection, the therapeutic components, getting under the skin, are evenly distributed there. Such injections help to improve the condition of the skin and smooth out wrinkles, correct age-related changes and correct visual flaws.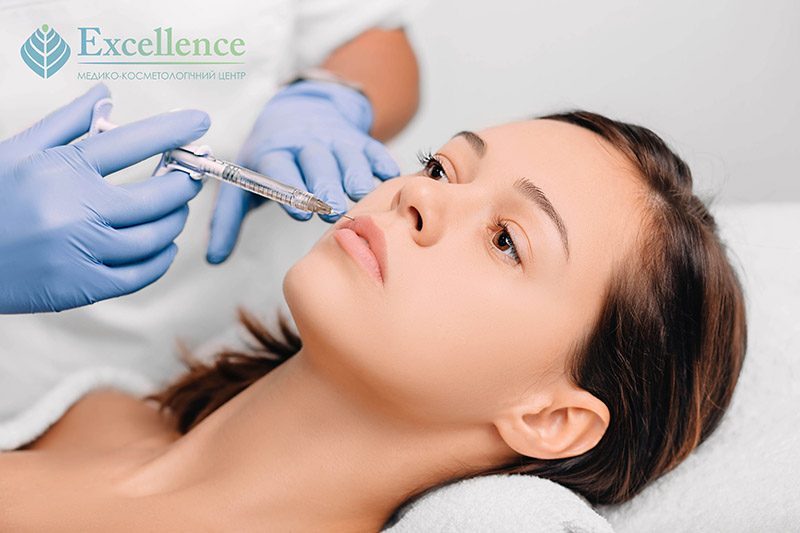 In our Cosmetic Medicine Clinic, you can do the following kind of procedures:
1) Contour plastic.
- Lips,
- Chin,
- Cheekbones,
- Facial contours,
- Eye fillers,
- Full Face.
2) Injections to correct facial wrinkles.
- Botulinum Therapy
3) Biorevitalization. Bioremediation, Polynucleotides
4) Mesotherapy.
- Meso Hair
- Meso for face pigmentation
- Meso for acne scars
5) Plasmolifting.
6) Treatment of hyperhidrosis.
7) 3D face lifting.
8) Lipo Mesotherapy.
- PB Serum triad
9)Vector lifting.
CLINIC ADVANTAGES

Medical license of the Ministry of Health of Ukraine

Experienced doctors and specialists

Certified products

Professional equipment
The indications for beauty injections:
- The presence of wrinkles and skin folds;
- Excessive dryness and peeling of the skin;
- Photo Aging;
- Skin laxity;
- Excessive pigmentation;
- A loss of a healthy complexion;
- Enlarged pores;
- Bruising around the eyes;
- Sagging skin;
- Asymmetry and other skin imperfections.
Are there any contraindications to beauty injections?
Beauty injections and 3D face lifting are usually not performed in the following cases:
- Pregnancy;
- Lactation period;
- Allergic manifestations;
- Inflammatory processes;
- Open bleeding;
- Exacerbation of chronic diseases;
- Infectious diseases.
- Covid-19
The Excellence Cosmetic Medicine Clinic in Kyiv has all the conditions for comfortable and high-quality thread lifting and beauty injections procedures. The rooms are equipped with modern equipment that meets all international standards and requirements. Only certified products and materials are used for the injections, and they are carried out by the qualified doctors with medical education and certificates confirming the qualifications and experience.
Before and after: