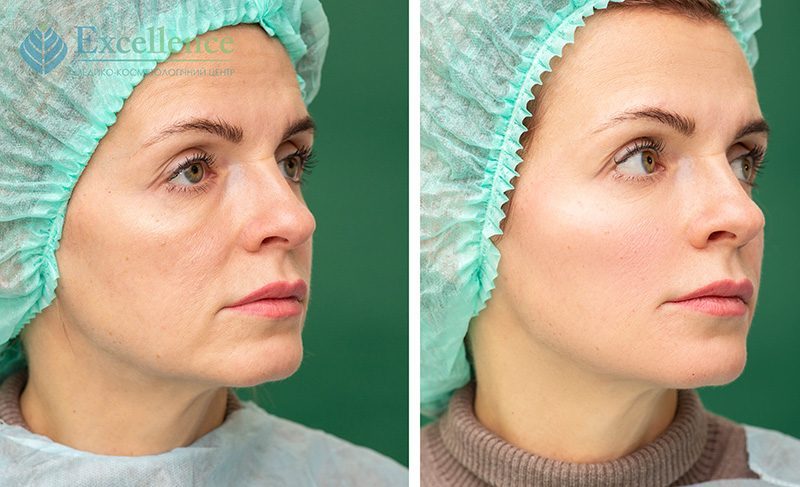 The RADIESSE Vector Lifting is an injectable cosmetic procedure to restore the volume of problematic areas and to tighten the skin. The technique called Radiesse is a filler based on calcium hydroxyapatite. It causes no allergic reactions, provides a long-lasting effect (1.5-2 years), does not attract moisture, and is completely eliminated from the body over time.
Radiesse has established itself as a reliable and effective tool in the fight against signs of aging. The RADIESSE injection provides volume and correction and smoothing of wrinkles. In addition to the aesthetic effect, the medicine stimulates the production of your own natural collagen and elastin and triggers the regeneration of the skin.
Radiesse Volumizing allows smoothing wrinkles, tightening fading skin and modeling a beautiful facial oval. The procedure is extremely popular because of its versatility, safety and effectiveness.
The results include:
- Correction of wrinkles and alignment of skin relief.
- Stimulation of collagen production and regeneration of the epidermis.
- Lifting and restoration of facial contour.
After the procedure corrective and tightening effects appear instantly. The injection RADIESSE will soften your smile lines, restore lost volume in the cheeks and outline the chin line.
CLINIC BENEFITS

Medical license of the Ministry of Health of Ukraine

Experienced doctors and specialists

Certified products

Professional equipment
Throughout the rehabilitation period, be sure to follow all the recommendations of the doctor who performed the procedure.
The contraindications include:
— Pregnancy.
— Lactation.
— Oncological diseases.
— Blood clotting disorders.
— Inflammatory processes on the skin at the injection site.
— Chronic diseases in the acute stage.
— Infectious diseases accompanied by high body temperature.
— Allergies to components of preparations.
You can get individual recommendations regarding the procedure at a preliminary consultation with the specialists of Excellence medical cosmetology centers.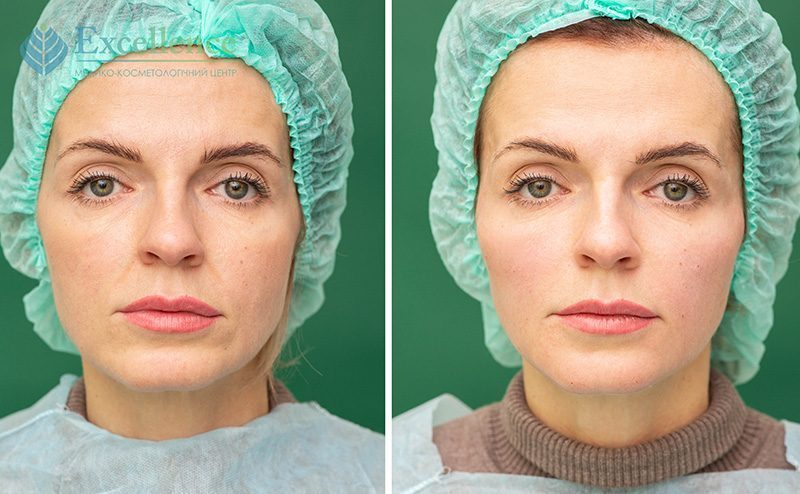 Duration

Procedure

Cost, UAH

MESOTHERAPY - FACE

30 min.
Filler Vit - OX/B/R (Italfarmacia, Italy)
1900
30 min.
Mesobotox face (Allergan, USA)
3500
30 min.
Mesobotox neck (Allergan, USA)
4500

MESOTHERAPY - EYES

30 min.
Eye area mesotherapy ECPR (Toskani, Spain)
1050
60 min.
TWAC eyes (Medhome, UK)
3100

LIPOLYTICS / ENZYMATIC LIPOSUCTION

45 min.
Chemical liposuction, second chin with DMAE (INNO Spain)
1000
45 min.
Chemical Liposuction, body (INNO, Spain)
2500
60 min.
Hyaluronidase / Collagenase (PB Serum, Spain) - 5 ml
1200
60 min.
Hyaluronidase + Collagenase (PB Serum, Spain) - 10 ml
1800
60 min.
Enzymatic lipolysis "TRIADA (PB Serum, Spain) - 15 ml
2800

STIMULATION OF HAIR GROWTH / TREATMENT OF HAIR LOSS

45 min.
Hair scalp mesotherapy Hair/Dermaheal (Spain/Korea)
1350
45 min.
DR.CYJ Hair Filler 1 ml
3200
45 min.
Hair Bio Activator Filler 1 ml
2200
60 min.
Scalp mesotherapy, 1 Plasmolifting™ tube
1700

BIOREVITALIZATION/BIO-REPARATION

60 min.
Plenhyage XL (Bioformula, Italy)
4900
60 min.
TWAC 2.0 (Medhome, UK)
4700
60 min.
TWAC 3.0 (Medhome, UK)
4800
60 min.
Juvederm Volite (Allergan, USA) - 1 ml.
6000

BOTULINUM THERAPY

Botox injections (Allergan, USA)

15 min.
Forehead
2000
15 min.
Interbrow
2000
15 min.
Eyes (crow's feet)
2000
15 min.
Rabbit wrinkles
from 1000
15 min.
Nose wings
from 1000
15 min.
Gingival smile
from 1000
15 min.
Kitic wrinkles
from 1000
15 min.
Corner of the mouth
from 1000
15 min.
Chin
from 1500
30 min.
Nefertiti elevator (neck)
from 5500
30 min.
Chewing mishna/bruxism elimination
from 4500
30 min.
Dysport injections (Ipsen, France), treatment of hyperhidrosis
7500

CONTOUR PLASTIC SURGERY

LIPS

60 min.
Juvederm 2 (Allergan, USA) - 0,55 ml
4000
60 min.
Juvederm Smile (Allergan, USA) - 0,55 ml
3700
60 min.
Juvederm 3 (Allergan, USA) - 1 ml
4900
60 min.
Juvederm Volift Retouch (Allergan, USA) - 0.55 ml
4000
60 min.
Juvederm Volift (Allergan, USA) - 1 ml
6700
60 min.
Juvederm Voluma (Allergan, USA) - 1 ml.
6700
60 min.
Restylane (Sweden) - 1 ml
7000

NASOLACRIMAL FURROW

60 min.
Juvederm Vollift (Allergan, USA) - 1 ml
6700
60 min.
Juvederm Volbella (Allergan, USA) - 1 ml.
6700
60 min.
Juvederm Volift Retouch (Allergan, USA) - 0.55 ml
4000

CHEEKBONES, CHIN, NOSE

60 min.
Juvederm Vollift (Allergan, USA) - 1 ml.
6700
60 min.
Juvederm Voluma (Allergan, USA) - 1 ml.
6700
60 min.
Juvederm Volux (Allergan, USA) - 1 ml
7000

BLANCHING

60 min.
Juvederm 2 (Allergan, USA) - 0,55 ml
4000

3D BIO-REINFORCEMENT (MEZONITE)

60 min.
Reversal liquid threads 1 ml
1800
60 min.
Reversal 4 ml.
5700
60 min.
Reversal liquid threads 9 ml
9000
60 min.
3D Lifting Mono 10 pcs.
3600
60 min.
3D Lifting Twin 10 pieces
5600
60 min.
3D Lifting with notches, 2 pieces.
3100

PLASMOLIFTING

60 min.
Any area, 1 tube Plasmolifting™
1700