In response to the constantly growing need of people for unwanted hair removal, it is especially important for the Excellence chain of clinics in Kiev to provide excellent results for a variety of patients. And if we speak about types of laser equipment, it is necessary to note that it is difficult to surpass diode lasers Lumenis LightSheer (USA). LightSheer DESIRE is an innovative hair removal system from the leader in the field of aesthetic medicine and cosmetology, the company Lumenis. The DESIRE model provides unsurpassed safety and efficiency, reliability and ease of use.
Excellence clinics network offers three laser hair removal devices: diode laser and alexandrite laser.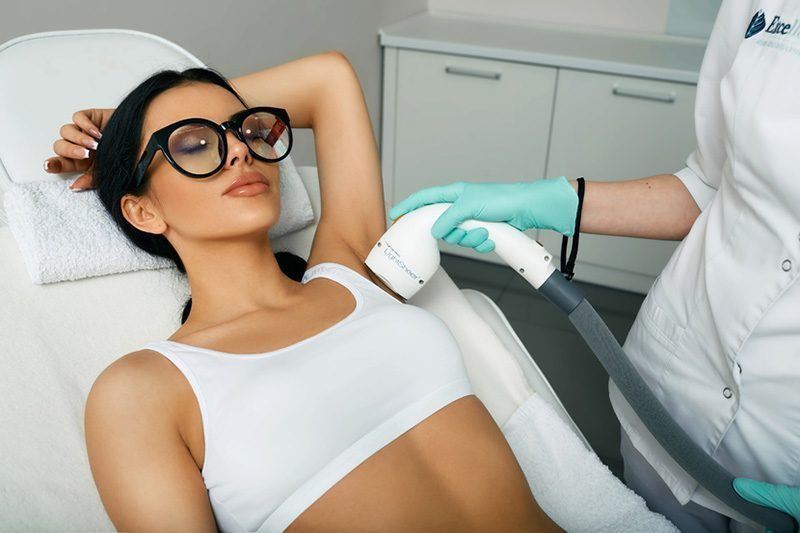 Design features of the LightSheer DESIRE laser
LightSheer DESIRE is the most modern diode laser for hair removal. Its main difference from its predecessors, the laser devices of legendary LightSheer line, is the availability of handles with different diameter of working spot (ET and HS). They allow to choose maximum comfortable and effective hair removal mode individually for each patient, depending on skin type and the area of the treated body or face . Innovative patented technologies ChillTip and High Speed (contact sapphire cooling and vacuum amplification) provide fast, safe, comfortable, and excellent results of the procedure.
The benefits of the diode laser hair removal:
- Efficiency. The wavelength of 805 nm diode laser provides deep penetration and excellent melanin absorption. The result of a course of diode laser hair removal is a soft and smooth skin.
- Safety. Lumenis LightSheer DESIRE is a safe device, especially if the procedure is performed by experienced, qualified specialists of the Excellence Clinics. Our beauticians are thoroughly trained to work with all laser devices, including the LightSheer DESIRE, and take all necessary precautions to ensure patient safety during the procedure.
- Painlessness and comfort. The LightSheer DESIRE has special cooling technology that helps prevent pain during epilation. The patented ChillTip provides continuous contact cooling of the epidermis to protect against burns and maximize patient comfort.
- Versatility. Diode laser hair removal allows getting rid of unwanted hair in various parts of the body, including sensitive areas and areas requiring the highest precision (face, arms, legs, back, abdomen, chest, deep bikini, and buttocks).
- Speed. Fast treatment speed with different application areas (9 x 9 mm, 12 x 12 mm, 22 x 35 m) for short session times. The HS vacuum module requires no contact cooling and reduces treatment time.
How the procedure is carried out: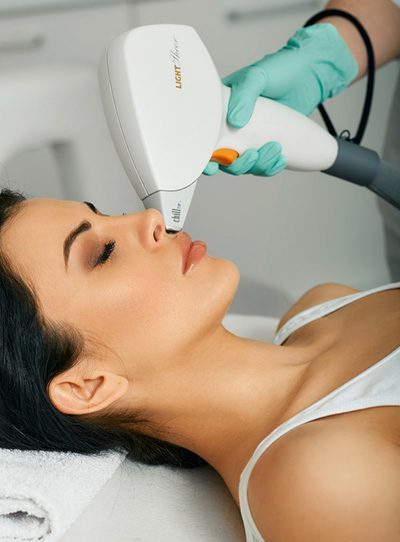 At Excellence Aesthetic Medicine and Cosmetology Clinic on Koltsova Boulevard, diode laser hair removal for people is carried out in the following stages:
- The consultation of a specialist, determining the phototype and features of the patient's skin.
- Since some areas of the body are more sensitive than others, local anesthesia may be used if desired.
- Removal of unwanted hair with the Lumenis LightSheer DESIRE diode laser.
- Application of a soothing agent to the skin.
Laser hair removal Lumenis LightSheer DESIRE is well tolerated by clients of our clinic and does not cause discomfort. All the patients of MCC Excellence in the Residential Complex "Parkoviy", Residential Complex "Venice", Residential Complex "Sofiya" note that this procedure is much more convenient and painless than traditional methods of getting rid of unwanted hair.
CLINIC ADVANTAGES

Medical license of the Ministry of Health of Ukraine

Experienced doctors and specialists

Certified products

Professional equipment
The appearance of the depilated area immediately after the session depends on the treated zone and skin type, so it will differ from patient to patient. Side effects, if any, are minor. They may include redness and swelling around the hair follicles, which are the desired clinical outcomes and indicates that the follicles have responded to the treatment.
A proper preparation for laser hair removal and following all your cosmetologist's recommendations during the recovery period are the key to achieving maximum results!
Before the session:
- Do not sunbathe or visit a tanning bed for 2 weeks before the laser hair removal.
- Not to remove hair with depilatories, wax or tweezers 3 weeks before the procedure.
- Hair in the hair removal areas should be shaved off not later than the day before the procedure.
- Avoid using cosmetic products (oils, creams, lotions, etc.) for 2-3 days before hair removal to protect skin from overheating.
After the laser hair removal:
- Use soothing and moisturizing products to avoid skin irritation, redness and dryness.
- Do not sunbathe in a solarium or on a beach within two weeks.
- Do not visit a bathhouse or sauna for 2-3 days.
- Within a few days, you should avoid physical activities and sports.
- Avoid direct sunlight, use sunscreens with SPF-30 or higher.
Contraindications:
- Pregnancy.
- Lactation.
- Oncological diseases (remission less than 5 years).
- Insulin dependent diabetes.
- Taking antibiotics of the group tetracycline and fluoroquinolone.
- Acute infectious diseases (including herpes).
- Presence of a pacemaker.
- Epilepsy.
- Skin lesions or dermatological diseases in the waxing area.
- A fresh tan (less than two weeks).
- An abundance of nevi in the epilation area requires special attention of a specialist. In some cases, the procedure may be contraindicated.
The excellent reputation of the diode laser system manufacturer Lumenis LightSheer DESIRE, as well as the excellence of Excellence Clinic specialists, ensures achieving excellent results. Diode laser hair removal is an effective, permanent, fast, painless, and comfortable method of removing unwanted hair.
The excellent reputation of the diode laser system manufacturer Lumenis LightSheer DESIRE, as well as the excellence of Excellence Clinic specialists ensure excellent results. Diode laser hair removal is an effective, permanent, fast, painless and comfortable method of removing unwanted hair.
LASER HAIR REMOVAL
Alexandrite laser DEKA Motus AX MOVEO
Diode laser hair removal Lumenis Light Sheer DUET/DESIRE
Diode laser hair removal Lumenis Light Sheer ET
Addresses of clinics
19/14 Williams St., Teremki 2
41 Myru St., Sof. Borshchahivka
14B Koltsova Blvd.
Duration*

FACE LASER HAIR REMOVAL

10 min.
Upper lip
260
-
120
10 min.
Chin, complexity 1-3
260-440
150 - 200
120 - 290
20 min.
Face
820
-
470
10 min.
Eyebrow (female)
150
-
100
10 min.
Interbrow bone marrow (man)
210
-
150
10 min.
temples
210
-
140
20 min.
Occiput (neck)
360
250
210
15 min.
Cheeks
310
170
170
20 min.
Cheeks (including temples)
410
-
270

HAND LASER HAIR REMOVAL

10 min.
Armpit area (women)
390
260
220
10 min.
Armpit area (man)
520
360
300
20 min.
Arms partially (woman)
580
460
390
20 min.
Arms partially (man)
730
620
470
30 min.
Arms completely (woman)
840
680
560
30 min.
Arms completely (man)
980
780
620
20 min.
Shoulders (woman)
440
360
300
20 min.
Shoulders (man)
670
520
380

BODY LASER HAIR REMOVAL

10 min.
Cleavage area
260
210
170
10 min.
Breast aureole
180
-
100
10 min.
White line of abdomen, difficulties 1-3
290-370-440
250
160 - 300
20 min.
Chest (male)
780
570
470
20 min.
Abdomen (male)
930
670
550
10 min.
Torso, difficulty 1-3
370-490
400
250 - 330
40 min.
Back partially (man)
1250
830
680
40 min.
Full back (man)
1550
1250
950

INTIMATE AREA LASER HAIR REMOVAL

10 min.
Pubic area (woman)
520
360
300
15 min.
Pubic area (men)
730
470
380
10 min.
Additional bikini (upper labia + intercalcaneal fold)
620
410
340
20 min.
Bikini line panties
670
480
400
20min.
Partial bikini
820
620
510
20 min.
Deep bikini (women)
1130
740
620
20 min.
Deep bikini (men)
1250
870
750
10 min.
Intertrochanteric fold
410
250
200

LEGS LASER HAIR REMOVAL

10 min.
Toes
150
-
80
10 min.
Knees
130
-
80
20 min.
Calves
770
550
450
30 min.
Calves (including knees)
900
620
510
20 min.
Thighs partially
570
430
360
30 min.
Hips
980
740
620
20 min.
Buttocks (woman)
670
520
430
20 min.
Buttocks (man)
930
620
520
60 min.
Legs completely (woman)
1800
1350
1100
60 min.
Complete legs (man)
2600
1650
1360
*The time of the procedure is approximate and may differ from the actual procedure provided