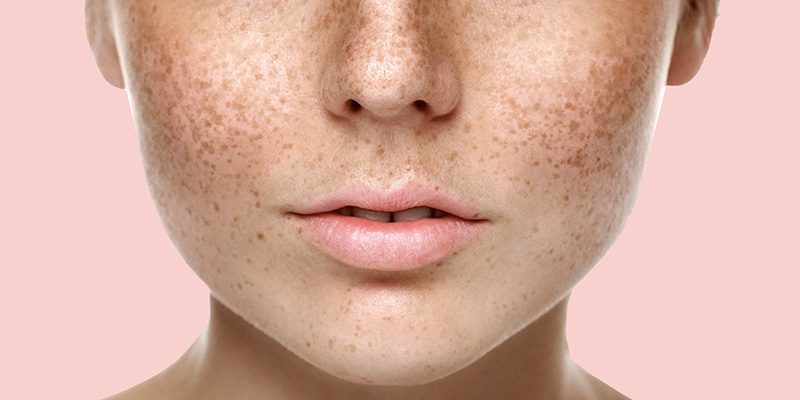 The cause of pigmentation is the accumulation of melanin cells. In most cases, these formations do not cause much physical discomfort, but they can cause a person to have complexes and psychological problems. Moreover, moles and age spots, over time, can develop into melanoma (a malignant tumor). Dermatologists at Excellence Beauty Clinic perform laser removal of freckles and age spots using the latest technology and equipment.
Causes of pigmentation:
- Hormonal disorders;
- Sunburns;
- Lack of certain vitamins;
- Poisoning of the body;
- Kidney failure;
- Infectious diseases of the skin;
- Gastrointestinal diseases;
- Disorders of the genitourinary system and liver;
- Heredity;
- Taking certain medications.
Removal of age spots by laser in Kiev is based on the principle of selective photothermolysis. The source of radiation is a powerful SmartXide DOT, from the world-famous manufacturer DEKA Lazer.
Melanin is a chromophore that absorbs light and is destroyed by the laser beam. Cells with normal melanin content are not affected.
Dermatologists at the Excellence Medical and Cosmetic Clinic use this method to remove
- Moles;
- Age spots;
- Freckles;
- Spots after pregnancy, childbirth, hormonal changes;
- Lentigo.
CLINIC BENEFITS

Medical license of the Ministry of Health of Ukraine

Experienced doctors and specialists

Certified products

Professional equipment
Throughout the recovery period, it is important to follow the recommendations of the doctor who performed the procedure exactly.
Contraindications
Excellence Clinic dermatologists do not prescribe this procedure in the following cases:
— Pregnancy;
— Breast-feeding period;
— Inflammatory processes;
— Diseases of the cardiovascular system;
— Oncologic diseases;
— Fresh tanning.
This procedure is highly effective and painless. The specialists of Excellence Medical and cosmetology center have a lot of experience in removing freckles and age spots in Kiev with the help of modern technology, and in particular with the DEKA Lazer device.
Duration

Procedure

Cost

INTIMATE AREA

60 min.
Laser fractional resurfacing of the perineum
2650 UAH
60 min.
Laser removal of postpartum scars
4200 UAH.
10 min.
Laser removal of neoplasms of the 1st category
650 UAH.
30 min.
Laser removal of neoplasms of the 2nd category.
1250 UAH.
30 min.
Laser removal of neoplasms of the 3rd category or more.
2100 UAH.

LASER RESECTION OF NEOPLASMS

20 min.
Fractional laser resection of a new lesion (3 - 5 mm)
650 UAH.
20 min.
Fractional laser resection of a new lesion (5 - 7 mm)
1050 UAH.
20 min.
Fractional laser resection of a new lesion (7-10 mm)
1,600 UAH.
40 min.
Fractional laser resection of a new lesion (3 - 5)
1,200 UAH
40 min.
Fractional laser resection of a neoplasm (5 - 10 units)
1,600 UAH.
60 min.
Fractional laser removal of a neoplasm (more than 10 pieces)
2100 UAH.
15 min.
Fractional laser removal of neoplasms on the eyelids
600 UAH.
30 min.
Fractional laser removal of a new lesion on the face
1,000 UAH.

LASER REMOVAL OF STRETCH MARKS, SCARS, SCARS, PIGMENTATION

20 min.
Fractional laser removal of striae (area up to 10 * 10 cm)
850 UAH.
30 min.
Fractional laser hair removal (up to 10 * 10 cm)
1400 UAH.
20 min.
Fractional laser correction of scars (one spot)
250 UAH.
20 min.
Fractional laser scar removal (up to 3 sq. cm)
550 UAH.
30 min.
Fractional laser scar removal (the area from 3 sq. cm. to 5 sq. cm)
850 UAH.
20 min.
Fractional laser scar removal (the area from 5 sq. cm. to 10 sq. cm)
1150 UAH.
30 min.
Fractional laser scar removal (the area over 10 sq. cm.)
1600 UAH.
30 min.
Fractional laser resection of the scar (the area of 10 * 10 sq. cm)
1900 UAH.
30 min.
Fractional laser removal of pigmentation area up to 3 sq. cm
700 UAH.
30 min.
Fractional laser pigmentation removal area from 3 sq. cm to 5 sq. cm.
900 UAH.
30 min.
Fractional laser removal pigmentation area of more than 5 sq. cm.
1600 UAH.

FRACTIONAL LASER REJUVENATION

60 min.
Fractional laser rejuvenation of upper or lower eyelids
1250 UAH.
60 min.
Fractional laser rejuvenation of the skin around the eyes
2100 UAH
60 min.
Fractional laser rejuvenation of the forehead.
1350 UAH
60 min.
Fractional laser rejuvenation of the paraoral area (around the lips)
1900 UAH.
60 min.
Fractional laser rejuvenation of cheek peeling
2300 UAH
60 min.
Fractional laser rejuvenation of the neck
2650 UAH
60 min.
Fractional laser rejuvenation of the face
3650 UAH
60 min.
Fractional laser rejuvenation of cleavage
3650 UAH
60 min.
Fractional laser rejuvenation of the face and neck / neck and cleavage
5250 UAH
60 min.
Fractional laser rejuvenation of three zones (face, neck, decollete)
6300 UAH
60 min.
Fractional laser rejuvenation of the hands
1900 UAH.
60 min.
Fractional laser peeling of the neck
1350 UAH.
60 min.
Fractional laser peeling of the face / décolleté
2650 UAH.
60 min.
Fractional laser peeling of the face and neck / neck and cleavage
4000 UAH
60 min.
Fractional laser peeling of three zones (face, neck, decollete)
5150 UAH